As a novelist, I can tell you that writers love bringing out beautiful descriptions. It is really a joy for us to try paint a summer sky or a misty mountain in grand, flowery, powerful words. I remember that when I wrote my first novel Dream's Sake, its earlier drafts had several grand descriptions of evening sky, river, garden etc. Those were the pieces that I considered the most beautiful bits of the book. I loved them. But writers are advised, 'Kill your darlings.' So, that's what I did. By the time the script moved to its final draft, I had cut away most of those descriptions. Because beautiful though they were, they did not move the story forward.
I wish I had access to the descriptionari.com at that time. I would have moved allthose lovely passages on this portal, instead of killing them completely. But the website probably didn't even exist at that time.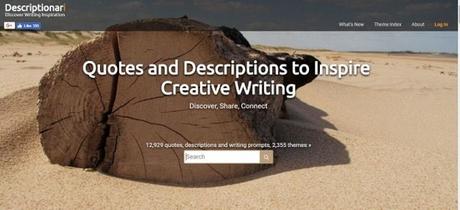 Anyway, I stumbled upon the Descriptionary today while researching for my next book. And since it's a well-designed website full of beautiful words, of course I fell in love with it. Here's why:
Beautiful descriptions about varied themes:
As the name suggests, Descriptionari is all about descriptions. It is like a Pinterest of descriptions. Description of sky, sea, road, hope, building, and so on. If you love words, you'd love going through these descriptions. They are small, quick reads. And they are very well written. Some may sound a bit too full of adjectives, but they are beautiful none the less. If you don't have much time but feel like reading something relaxing and beautiful, you'd love browsing through the Descriptionari.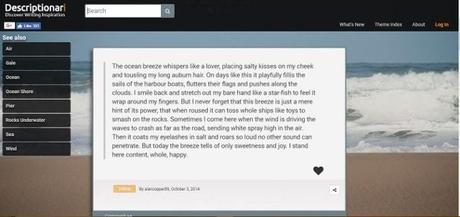 Learn to write powerful descriptions:
The website offers short descriptions about various things. Readers can browse through these and enjoy the magic of words. But Descriptionari is even more valuable for writers. To writers, it can provide with ample inspiration to write powerful descriptions. More than that, it can be a big help to a writer in describing something he or she is not very familiar with. For example, a writer who has never been into a forest can still get a description of it from this website. If you register, you can also publish your own descriptions. It can be an excellent practice if you want to write powerful descriptions. And it will also give extra exposure to your words.
User Interface:
Descriptionari is beautiful, fast and with a simple user interface. The home screen has a clear search bar. Using it, you can search out the descriptions for your key words. Scroll down the home page and you'd know why I said it's like the Pinterest of descriptions. You'll find two columns of featured descriptions with their header image. Click on any image and it will load more descriptions about the same theme. You can scroll through them or you can look for other related descriptions from the keywords on the side bar. For example, if you are viewing description of Evil, the side bar would present you with keywords like Death, Gloom, Hate.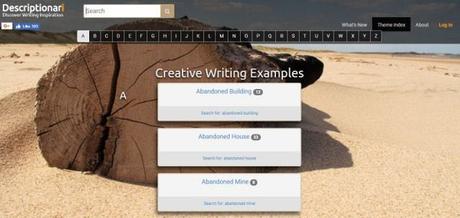 You can also search for description by going to Theme Index. The link to this is given on the top right corner. Theme Index page presents you with Alphabet keys. You press the alphabet of your choice and see the descriptions of words starting from it.
All the descriptions have related background image that add to the pleasure of reading. The website is smooth and has nice scroll effects.
The Social Networking angle:
The website also has a limited social networking element. While reading a description, you can click on the Follow button to follow the author. You can also comment on a description. By clicking on the name of the author, you can visit their profile and know more about them. The profile pages show the author's photo, short description and also the number of followers, descriptions etc.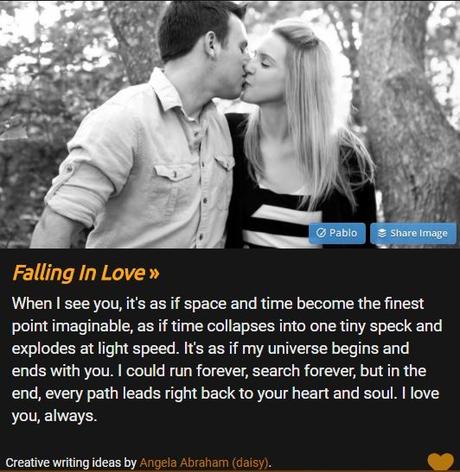 If you love reading beautifully written passages, or if you are a writer seeking inspiration to write powerful descriptions, check out the descriptionari.com. It is a very pleasant website, full of beautiful words.