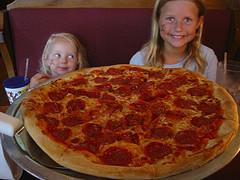 photo : Terren in Virginia's Photostream
In mid-March, Derren and his family from England, visited Chalet Lowonahill. He had much to say about the chalet and the surrounding area.
Turracherhohe and Murau-Kreischberg Ski Resorts
Here's what Derren thought about the ski resorts:
hello Linda
foremost my apologies for not writing sooner.
it all seams a long time ago now but the holiday was great (as is every holiday when you have the mountain fresh air and have the opportunity to go skiing) – ourselves and the children loved it. and we couldn't have asked for a better week either (weather wise) – incredibly 7 days of cloud free blue skies and warm (16-20 degrees centigrade).
this made for varying snow conditions… very nice in the morning from the overnight piste bashing (grooming) while by lunchtime the pistes had soften and become very slushy (not so good); but a welcome sacrifice for the nice weather.
we skied both the nearest resorts of Turracher Hohe and Kreischberg with the children having ski and snowboard lessons at the former; and while both have their merits we found Kreischberg had better facilities and gentle slopes for family skiing (or complete beginners). but both resorts had sufficient runs to satisfy all levels of skiers/boarders. and having the two resorts (and others) within close proximity of the chalet offered variety.
and we would recommend Tom's Pizzeria at the bottom of the Kornockbahn lift in Turracher Hohe for good food and service – the children enjoyed the massive pizza's.
It was good to hear that Derren and his family had an enjoyable holiday. He quite rightly noted that there are sometimes unexpected consequences for having good weather on an otherwise cold winter holiday.
At all ski resorts in Austria, great care is taken to maintain good skiing conditions as far as possible. But mother nature has a way of making her mark on even the best laid of plans. To try to combat these difficulties, the ski resorts have snow making machines. They help, but nothing can cure the unpredictability of the weather.
The good news
On a positive note, when the weather is good time spent out in the snow is more enjoyable for all ages and interests. Non-skiers will find there's plenty to do whatever the weather – even if it's only 'people watching' whilst sipping hot chocolate or a sweet schnapps!
And let's not start on the chocolate cakes and knödels..
Chalet Lowonahill is an all-season, rustic style holiday home in Styria. It's the ideal place for you to discover the delights of the 9 provinces of Austria. To find out more, simply click here.