According to Derek Fisher's most recent Tweet, he seems to be in limbo on whether or not he's going to return to the NBA's playing stage again.

I won't close the possibility that I will play again, however, for now my family & being close to them remains the priority.
— DerekFisher (@derekfisher) December 22, 2012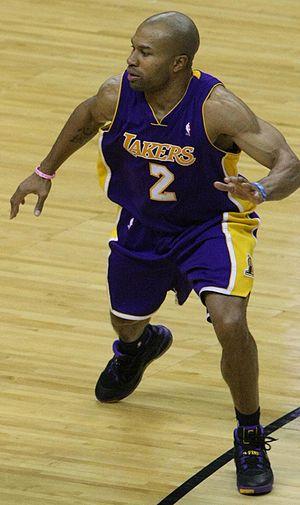 A photo of Derek Fisher modified by SRE.K.A.L.24. (Photo credit: Wikipedia)
I really do think that D-Fish has some left in the tank and could play another two years on a contending team playing limited minutes with a limited role. As much as I'd like to see him join the Heat or rejoin the Lakers, I would almost just as much like seeing him in a T'Wolves, Raptors, Wizards or Pistons uniform and take on a role on a young team that needs help off of the bench right now.
This is all really interesting to me because just a couple weeks ago he was signed by the Mavericks and looked like he was going to have a sizable role on that team after losing veteran guards Jason Kidd and Jason Terry this offseason in free agency.
Best of luck, Derek!