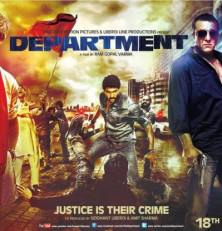 CriticLeo Rating
Direction

Story

Actors

Technical

Entertainment
Gone were the days when I went to cinema expecting great stuff from Ram Gopal Varma. But considering some of his excellent takes on the underworld like Sarkar, Shiva, Company, Gaayam etc, I thought Department too would be a gripping drama. Hope is not a bad thing after all! Read on to find if I was right in being hopeful.
Plot:
Sanjay Dutt plays Mahadev, a family man and a tricky cop, while Rana Daggubati plays Shiv Narayan, the tough encounter specialist and a job devotee. Along with few other cops, these two guys come together and form 'Department', an exclusive wing to deal with Mumbai mafia. The amity between Mahadev and Shiv is affected when Amitabh Bachchan arrives as Sarjerao, a typical neta.
Analysis:
RGV made the movie in his own experimental style. Trying to make a point that there's nothing like good, bad or truth, Varma created chaos.
The first half is about the development of an emotional and professional bond between Sanjay and Rana. They both go on a shooting spree, be it in a crowded market, a night club and anywhere and everywhere. An obvious reaction – the gangs become cautious now. You can see that something is happening – these men are shooting, chasing, one reveals his not-so-good side and so. But the reasons for their actions stand blurred. Interval twist was so so expected. Second half is about even more gun shots and a few tear drops.
Quick take
What's good:
Actors' performances (Yeah, all of them)
Background score and Cinematography at places.
What's bad:
Weak screenplay
Cliched story
Confused direction
Guns, underworld, gangs and wars, politics, chase runs, trust, foxiness – we've seen these elements in many movies earlier. Department too has all these elements, but unfortunately none was in sync with the other. The major motto of the story – a department to control mafia – well, this was entirely deviated. But there are moments of relief as Amitabh Bachchan manages to entertain us. After a while, abruptness becomes a norm in the movie. You can expect anything to happen any time, however illogical it may be.
Department is a cliched story told with utmost confusion. The screenplay only adds to the chaos. Dialogues have a mediocre impact. Cinematography strains your eyes at places and beauty is nowhere to be seen except for the intro scene where a man is shot dead in a beach, and a couple of close up shots. The movie is shot in numerous angles and I don't know who is that super experimental cinematographer. Yes, no name was mentioned in the titles. Background score helped here and there. All the songs, except Cheeni, seemed irrelevant. Yeah, for the first time an item song didn't seem entirely forcible.
Though not in a central character, Amitabh Bachchan proved his versatility once again. Sanjay Dutt was okay. He emoted well, but couldn't do any good to action sequences, mainly because of his physique. After Leader in Telugu, this is one role where Rana shines. His swiftness in action parts and his athletic figure helped him.
Madhu Shalini was commendable in a full fledged negative role. Abhimanyu Singh was apt. Vijay Raaz wasn't given a right role. Anjana Sukhani and Lakshmi Manchu were limited and skillful.
Final word:
Cliched and chaotic, Department has nothing much to entertain. I'll go with a 2 out of 5.