Last year, we spent a fabulous Easter holiday in Iceland and witnessed the magnificent beauty of nature in all forms from glaciers, waterfalls, volcanoes to geysirs and black beaches. They left me in awe and I was quite certain that it was going to be the best Easter holiday ever.
I guess I made the wrong assumption.
For this year's Easter holiday was just as magical. Although it was probably a far cry from a nature's walk, we did indulge in the fun of being surrounded by tonnes of Lego bricks and feeling as though we were in a paradise splashed with vibrant hues of red, blue, yellow and green.
In addition to feeling like kids all over again in Legoland, we also visited the Giskud Zoo - where we could go come up close with lions, and Lalandia - a fun holiday resort with the largest water park in Scandinavia.
Well. The fact that I turned 29 in Legoland also fueled my liking for the place and left behind a another closet of precious memories.
Read on and join us on our Easter adventures in Denmark...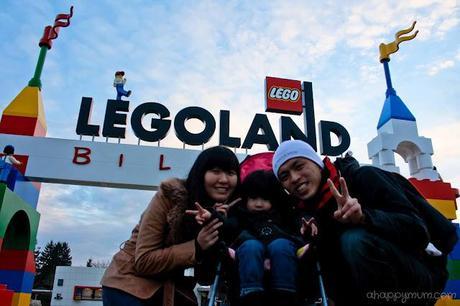 If you don't like to read through lengthy write-ups, you can just scroll down to the bottom and view the video which showcases the highlights of our trip.
******
Givskud Zoo
Givskud Zoo opened in 1969 under the name of "Løveparken" (the lion park) with lions as its only animals. Today the park has more than 700 animals distributed among over 70 species and a third of these belong to the endangered species.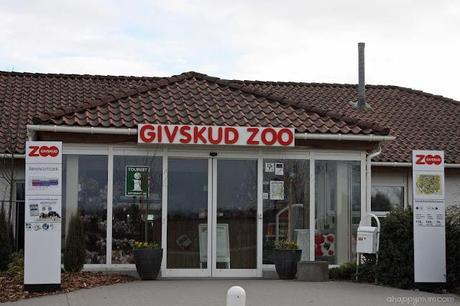 The one thing unique about this zoo was that we had the option to drive our own car through the zoo on the safari route and get the opportunity to see animals up close. I mean, really really close.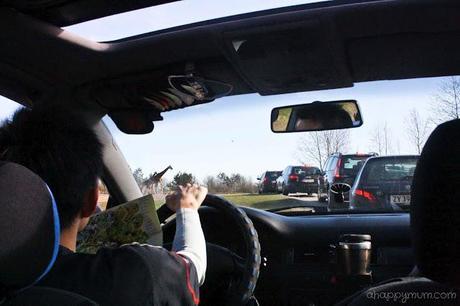 We were enjoying the warm sun as we joined the queue of cars that were admiring the giraffes and zebras. It was fun just watching the animals graze the grass and it made me smile when I saw a cute baby giraffe nuzzling up to her mommy. Yes, I assumed it wasn't the daddy. Anyway, I was engrossed in thinking how "Mums are the best" when all of a sudden, the hubby exclaimed "Look dear, on your right!"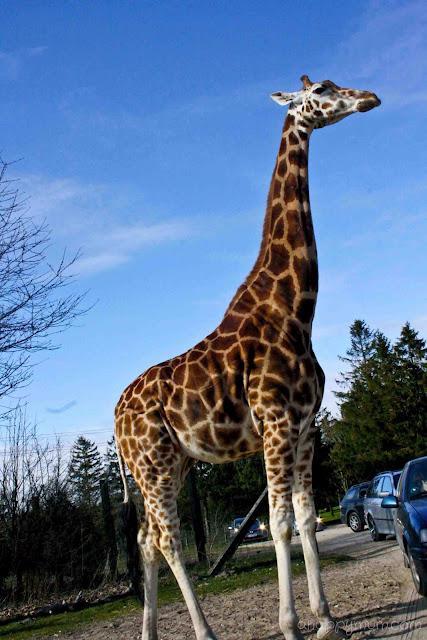 That was when I saw this ginormous animal hovering over the roof of our car while sticking its tongue out and licking the remains of its lunch.
With the window wind down, I swore I could have touched it but then I decided to just say Angel say "Hello!". Probably it didn't hear us because the way we saw it, its ears were high up in the sky.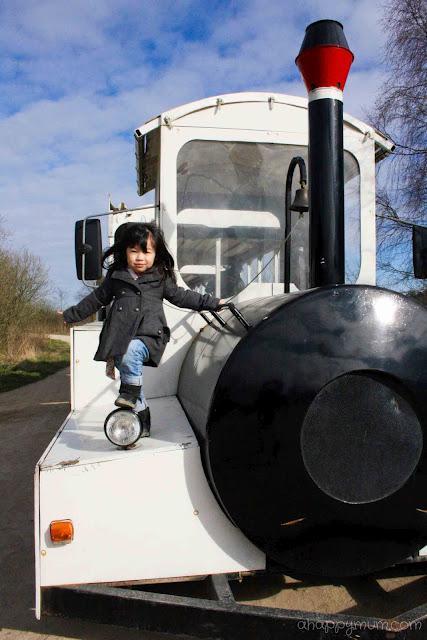 Moving on, we were lucky to be able to catch the Safari train that brought us on a ride and gave us the opportunity to feed the domesticated animals, something that's always a hit with the kids and one that Angel enjoys every time.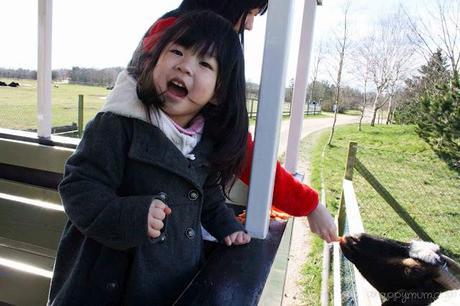 First up were the goats. Guess what we were given to feed them? CARROTS! Yes, I never did know goats loved carrots, not to this extent. They couldn't stop munching and asking for more. Angel was as usual the brave girl who fed them even the tiniest bits of carrots and gently dropped them into their mouths. Well, I don't remember being so gutsy at two but I'm glad she loves it.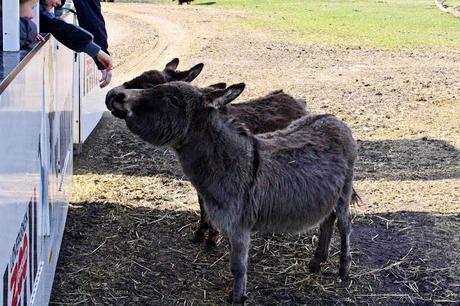 Then came the donkeys. Angel shouted "Ee-yore" enthusiastically when she saw them. Yes, they ate carrots too! It was just that jw and I got a little petrified when we saw their teeth. Did you know? A female donkey has on average 36 teeth and a male has over 42! And like horses, their teeth always grow. We were stroking these tame, furry animals when all of a sudden they opened their mouths wide to gobble the carrots and seeing their rows of huge, ivory pearlies made us back off a little.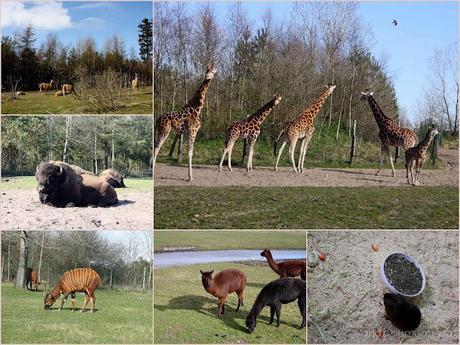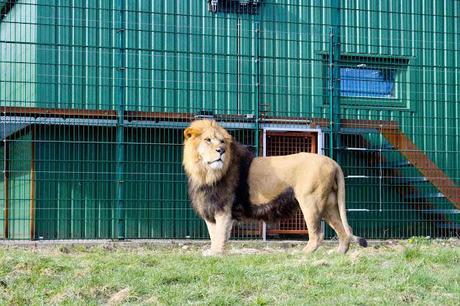 We continued driving through the zoo and met many animals from the Asian elephants, water buffaloes, lemurs to white rhinoceroses, yaks and macaws. The highlight of the trip had to be driving through the double steel gates into the lion enclosure and coming up close with the largest pride of lions in Europe. 
It was my first time being at a stone's throw away from the majestic looking animals and somehow, it gave me the chills even though I was seated inside the car. C'mon, they are LIONS! By the way, convertibles are not allowed, unless you want to risk the lions jumping onto your heads. We saw two handsome lions who stood up and glared at us, a few lionesses who were resting on the grass, and not far from them laid the most number of lion cubs I had ever seen. Were they cute? Yes definitely, because all babies are!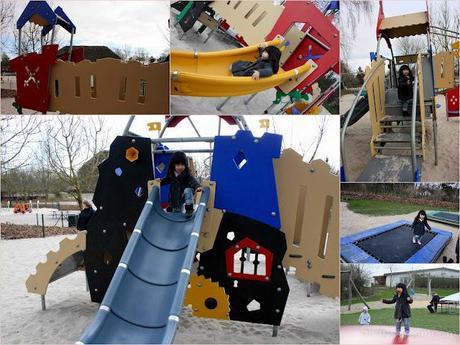 The Zoo also offered a huge play area which Angel probably enjoyed the most as she explored all the slides and jumped while laughing incessantly on the trampolines. Thank you, Givskud Zoo for such an unique and fun zoo experience!
******
Legoland Village and Hotel Legoland 
We stayed in two places on our trip - namely Legoland Village and Hotel Legoland.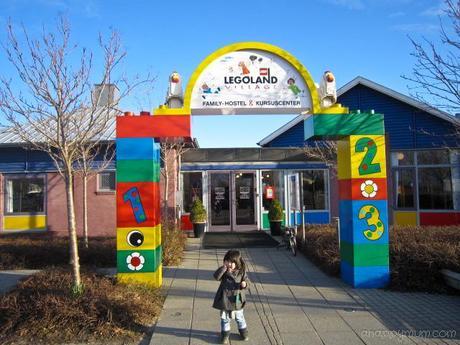 Legoland Village, Billund is located 500 metres away from Legoland and a short walk to Lalandia. We loved the entrance gateway made up of gigantic Lego bricks that makes you feel like you are walking into a carefree world of colours and fun.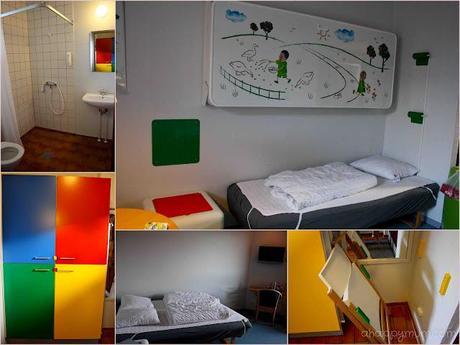 Despite being told that it resembled a chalet kind of accommodation, we were thrilled and pleasantly surprised to find ourselves a clean, neat room equipped with Lego closets, Lego hangers and a huge box of Lego toys for Angel to play with.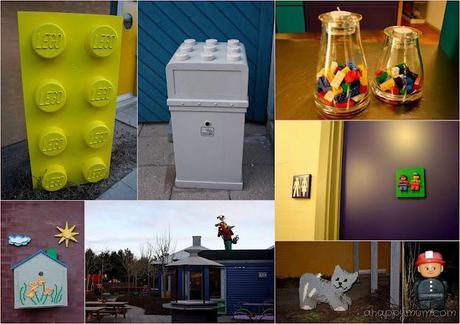 Inside the Village, there was a communal kitchen that had all the supplies for anyone who wishes to whip up a meal or hold a barbeque. In addition, there were Lego figurines, playgrounds and toys everywhere we turned and somehow, we just knew we were going to have a fantastic holiday. Being the inquisitive toddler, Angel couldn't running to everything she saw, exclaiming "What's this? What's this?" and then end up squealing in delight even if it was just a Lego dustbin.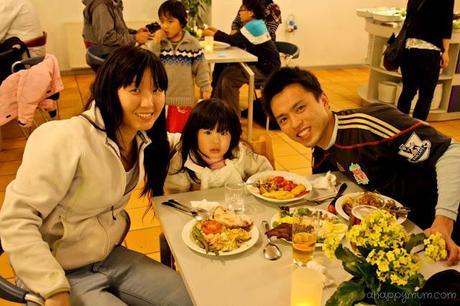 For dinner, we had a savoury carvery buffet at the restaurant inside the Village. We particularly loved the venison and turkey meat because they were really juice, tender and delicious! Too bad Angel was suffering from several ulcers in her tiny mouth and every time she took a bite into food, she ended up crying.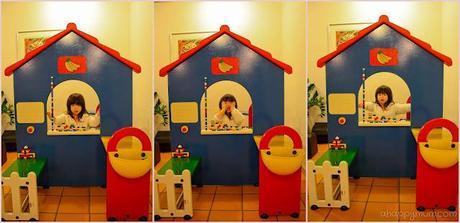 Luckily, the Lego play corner in the restaurant did wonders in helping to cheer her up. She became so engrossed in finding her favorite square Lego bricks that the pain of the ulcers miraculously vanished.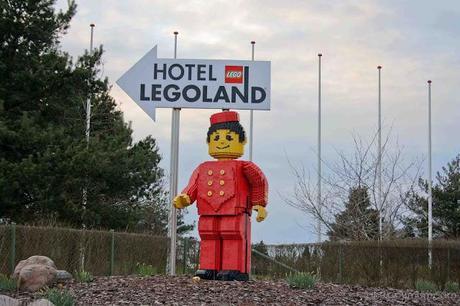 Our last three nights were spent in Hotel Legoland which was located right inside Legoland, much to our joy. We were lucky to have been able to book a business room, which was the cheapest room, at S$900+ for three nights, including buffet breakfasts and two day passes to Legoland.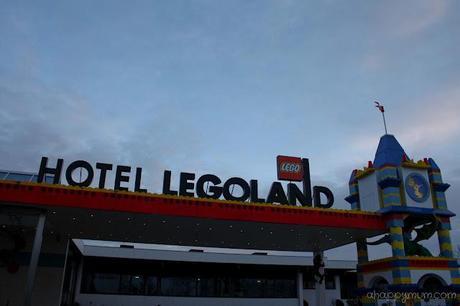 Woohoo! We couldn't wait to get inside and explore the rest of the hotel!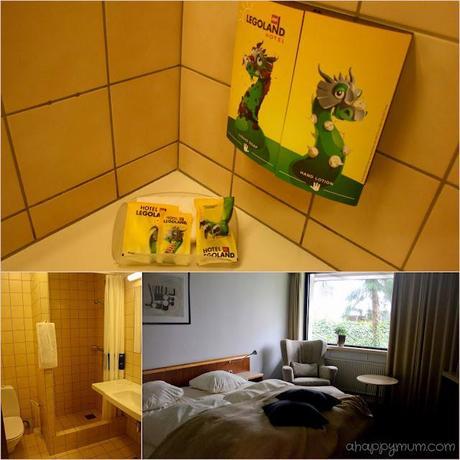 Our room, which was located on Castle Street, was cosy, clean and peaceful. Alas we didn't have any Lego toys in the room or souvenirs like what our friends said they had, but considering it was meant for businessmen and executives, that wasn't a surprise.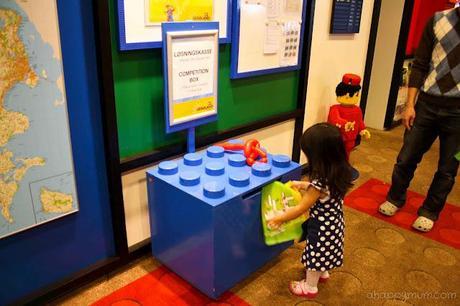 The hotel had everything planned and laid out for the kids. Not only were there numerous play areas with tonnes of Lego toys, there was also a "Lego Treasure Hunt" whereby you had to hunt in different areas all over the hotel using a map and there would be questions to answer. Every kid could participate, a winner would be picked daily and he/she could receive a diploma and a Lego souvenir. Well, Angel was an eager participant and although we didn't win, it was the fun process that mattered.
In addition, there was also a "Lego Building Competition" where kids (and their parents) could build a Lego figurine with relevance to the monthly theme. The theme for April was "Build your best friend" and we could hardly believe our eyes when we saw how creative other hotel guests were. From planes, guns and robots to coconut trees, penguins and castles, these were stuff that we never could have conjured and it was a thrill to look at all the different creations every morning.
We also loved the Wii Room equipped with lots of fun games, the Game room which had a table soccer, pool table and chess board, and the indoor playground which had a really slippery slide and Angel could not get enough of it.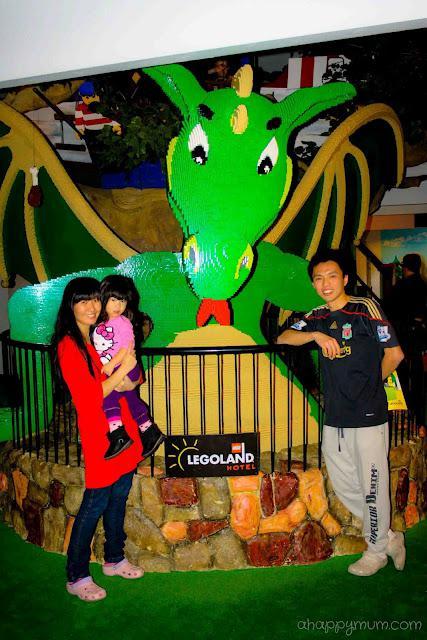 This was the humongous green dragon that greeted us at the hotel lobby.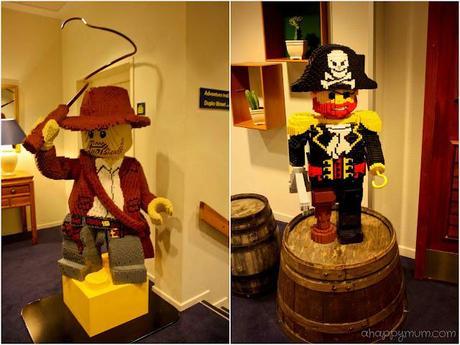 Look! It's Indiana Jones and Captain Hook! All made up of Lego!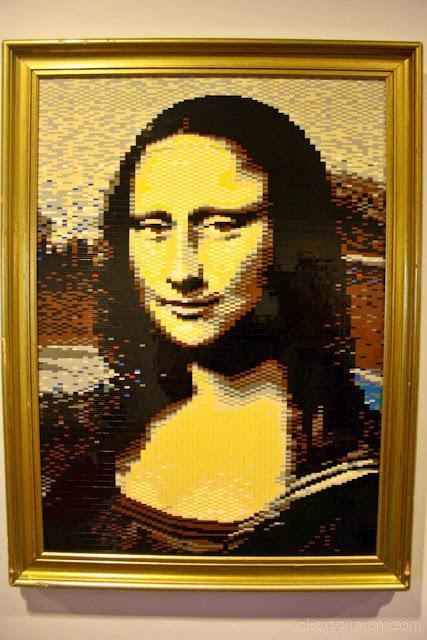 I didn't think it would be possible to turn Lego into Mona Lisa, but turned out nothing was impossible.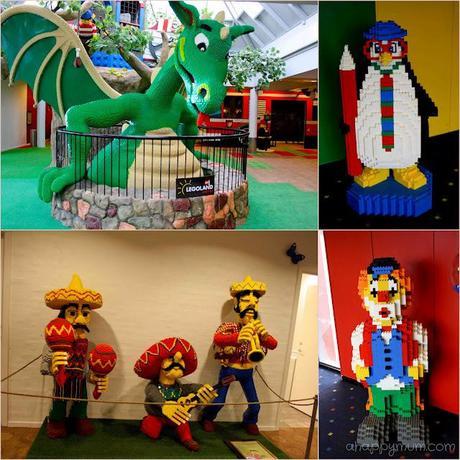 I simply loved the fact that everywhere we turned, we saw colourful, unique Lego figurines. Maybe it was the bright colours, maybe it was the creativity, maybe it was the reminder of childhood, but in any case, they just had a way to make me smile.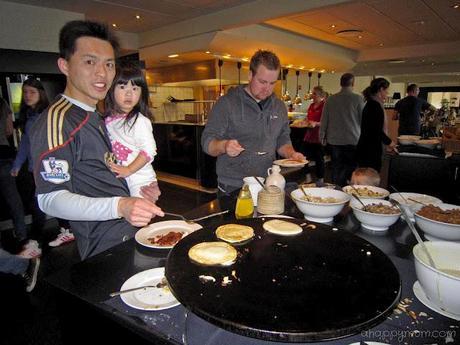 We also loved their buffet breakfast spread and the highlight was probably making our own pancakes every morning. On my birthday, jw brought up breakfast and I realised nothing beats waking up and having yummy breakfast in bed, with my lovely girl seated on my lap, while devouring pancakes made by the hubby and the most crispy bacon I had ever tasted.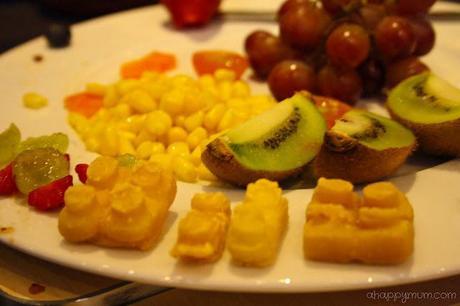 See, they even had Lego fries! Well, we were just glad to be surrounded by all things Lego on this holiday!
******
Legoland
Yes, I'm finally coming to the highlight of the trip - our two day visit to Legoland! Legoland Billund, was the original Legoland park which opened in 1968. The other Legoland theme parks are currently located in Windor, Germany, California, Florida and the upcoming one would be Legoland Malaysia, the first in Asia which is slated to be opened this year. Following that, there are also plans to open more theme parks in Japan, Korea and Dubai.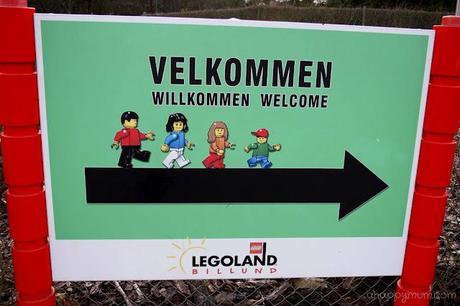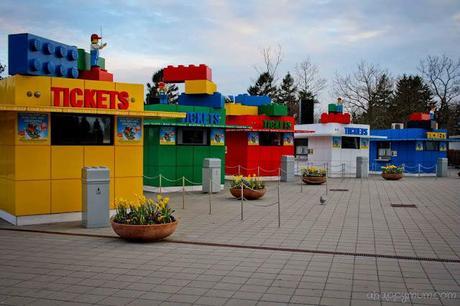 Check out the colourful Lego ticket booths outside the main entrance. If you are wondering why it looked so deserted, I took this picture after the park was closed because guess what, I already had my tickets and guests at Hotel Legoland had a special side entrance so we didn't even need to come here.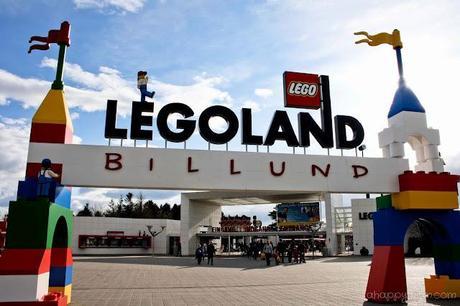 Nonetheless, it was a MUST to photograph the main entrance. It's a been there, done that thingy, and there was no way I was going to miss this photo opportunity.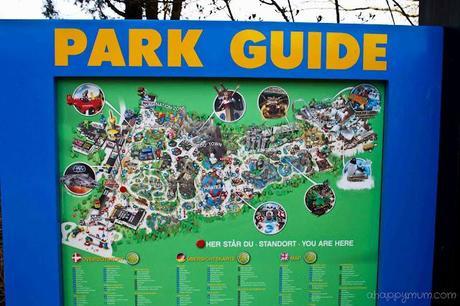 This was the park guide. Currently, Legoland Billund is divided into six main worlds namely Miniland, LegoRedo Town, Duplo Land, Knight's Kingdom, Pirate Land, Adventure Land with the new Polar Land slated to open this year.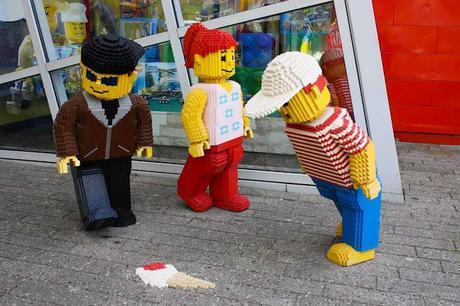 Loved this! Angel kept saying "Mummy, ice cream dropped!"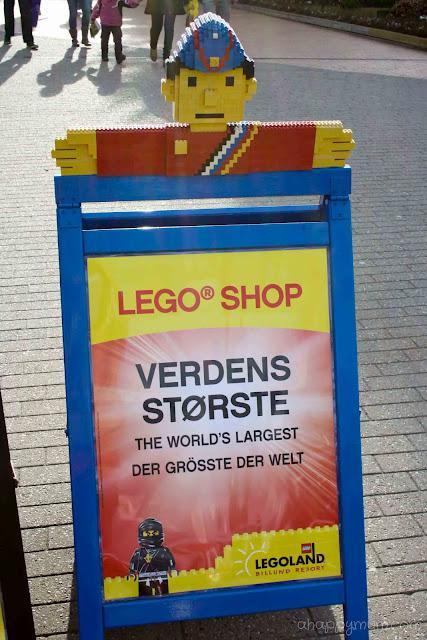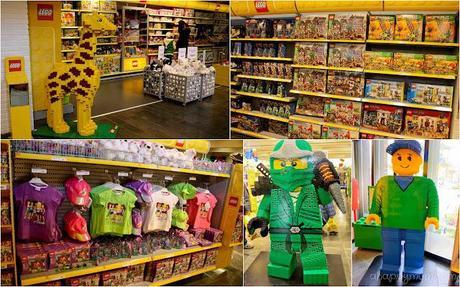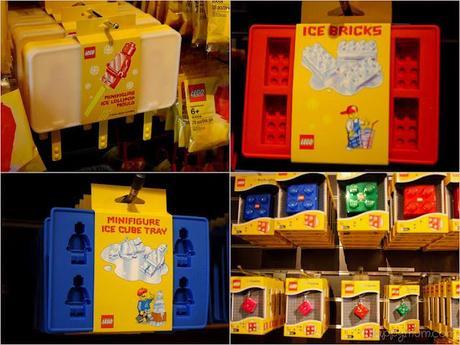 The Lego Shop in Billund was said to be the largest in the world. Indeed, the shelves and racks were stacked with so many Lego items that I didn't even know where to begin. I was contemplating whether or not to buy a Lego ice cube tray because it looked so cute. Eventually, I decided to buy two plastic Lego lunch boxes because they were the cheapest. =)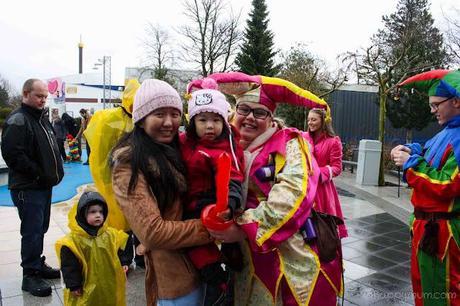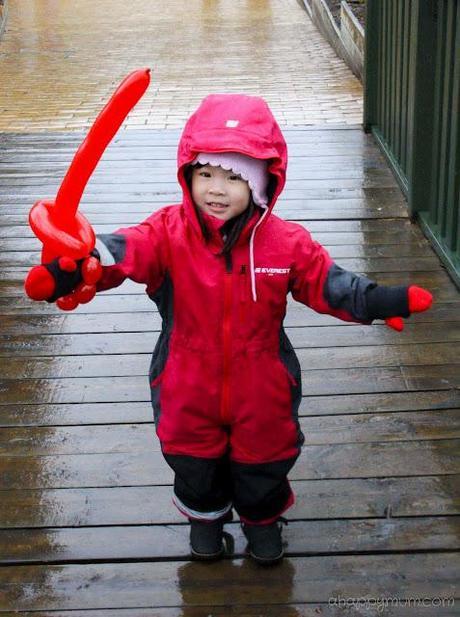 Our first stop in Legoland was to Meet the Characters (honestly, we had no idea who) and Angel had an option of choosing between a balloon dog or sword. I thought a sword was much better for the occasion and turned out she loved it.
"Mummy! I'm all set to go fight the pirates!"
Was it raining that day? YES! THE WHOLE DAY!
We were drenched in the rain and cold from the chilly wind but to look on the bright side, a rainy day means no queue for the rides and we could have as much thrill as we wanted. Who cares about the raindrops splattering onto our faces and the near zero degree temperature? Not me, not jw, and definitely not Angel.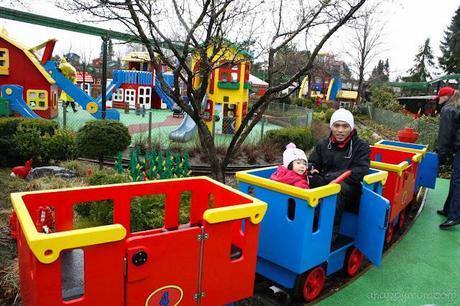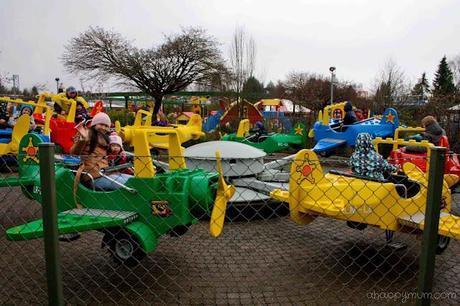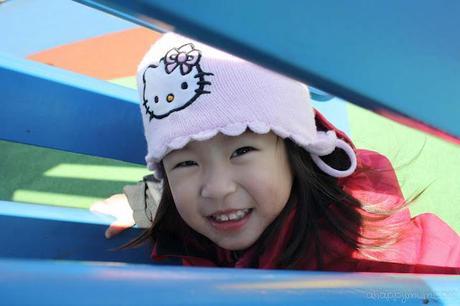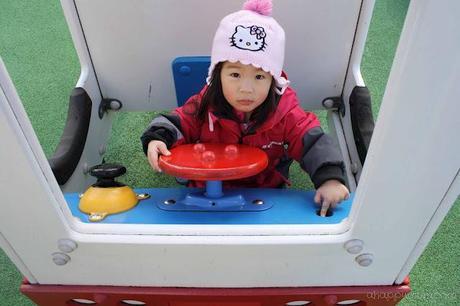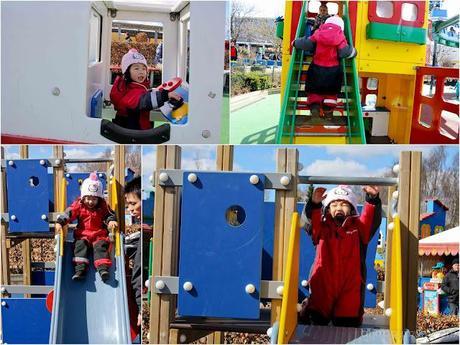 Duplo Landis a colourful paradise with attractions for the younger kids. Angel loved the Duplo Express train ride, the a-bit-too-fast-for-my-liking Duplo Airplane ride (which she insisted on sitting in the green plane and so happen we got the last one which WAS green) and the Duplo Playhouses equipped with her favorite slides, cars, planes and lots of interactive elements.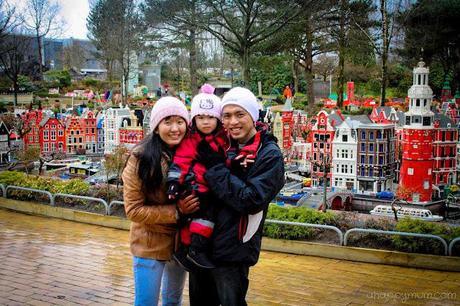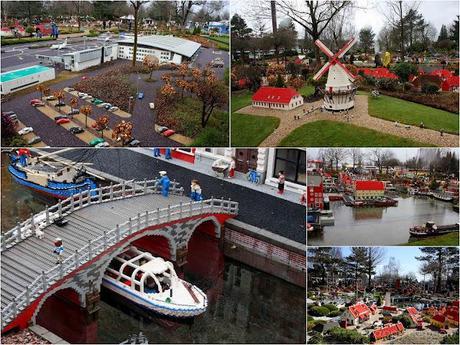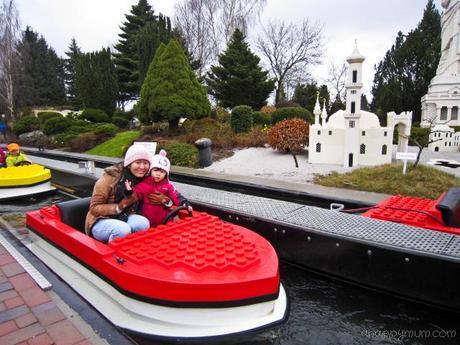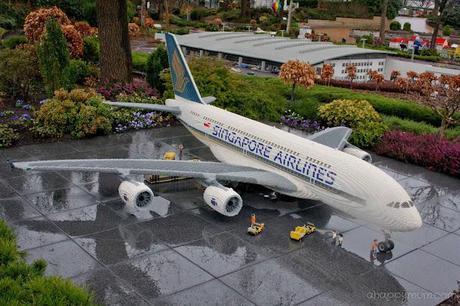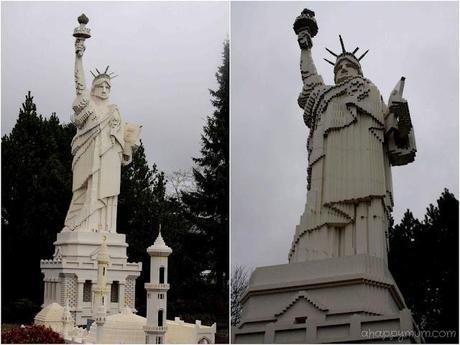 Miniland

is where you can see the world in minature and admire rotating windmills, ships sailing through tiny canals, cars driving around, cranes in operation and even airplanes moving on the runway. For the Star Wars fans, good news - there is a 420 square metres of display area where you can admire cool scenes from the movie and meet the spectacular star ships, heroes and villians - all built from over 1.5 million Lego bricks!
We took a total of five rides in Miniland and loved them all - The Monorail, LegoTop, Lego Train, Lego Safari and Mini Boats. My personal favourites were 1) Lego Safari where you get seated on a zebra-striped jeep and take a drive through the African savannah, meeting animals like flamingoes, elephants, lions, ostriches and many more; 2) Mini Boats where you cruise around in Lego boats where kids can steer the boats past monuments like the Statue of Liberty and Kronborg Castle.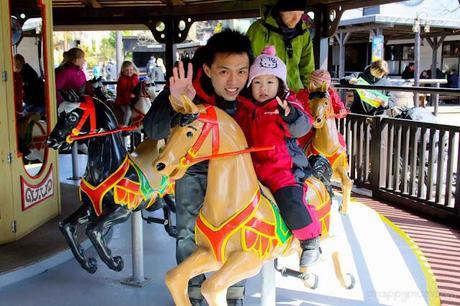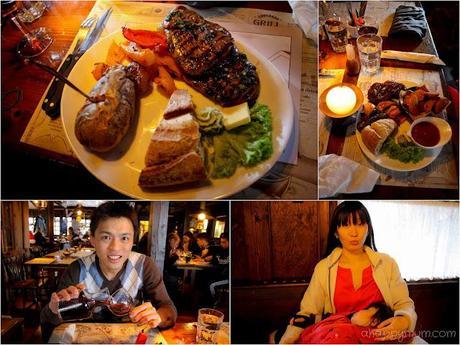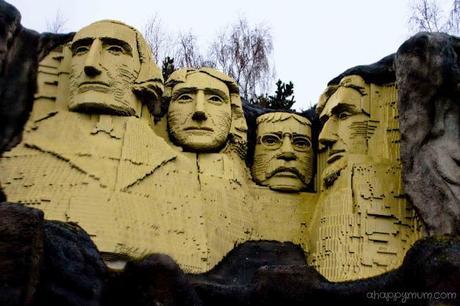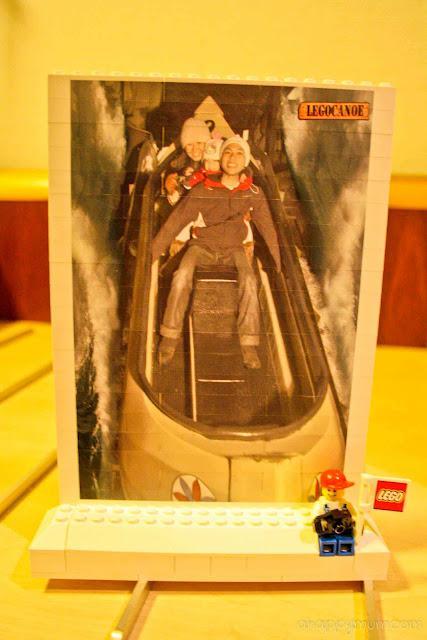 LegoRedo Town is the Wild West area inside Legoland where you imagine smelling gunfire and meeting cowboys and Red Indians. Yi-haaaa! We loved the ambience here and the lunch we had at Grillhouse was so delicious it makes me drool now thinking about it. I ordered a mixed grill and to my surprise, I love the grilled steak, grilled chicken, grilled lamb and even the grilled pork! Coupled with a glass of red wine and a sleeping child, my birthday lunch just couldn't get any better.
As for rides, Angel loved the Western Ride which was the carousel where the horses could really 'rock' if you use enough strength. She also sat in the first row in Timber Ride and Legoldmine, which made her feel proud and happy that she was 'driving' the train and roller coaster.
Jw and I loved the Lego Canoe ride where you cruise on a foaming river through wilderness, meeting animals like bears, rattlersnakes, pumas and meerkats, followed by a full-speed descent at the end. Check out our big splash in the video! We decided to purchase a souvenir which had our photo (taken during the electrifying descent) printed onto 89 Lego bricks, which can be assembled and dismantled.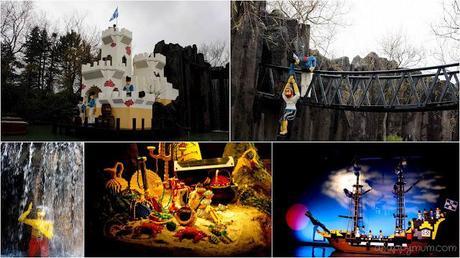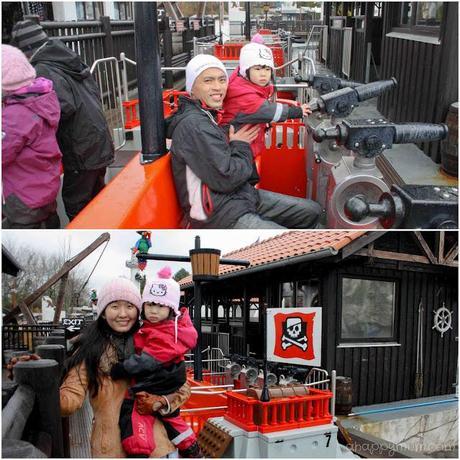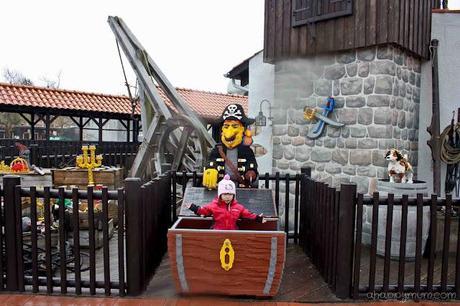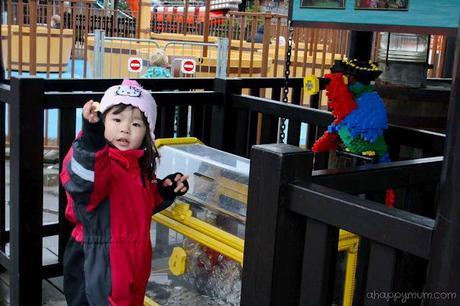 Pirateland offers many fun adventures for the families and children, including many water battle rides and real people dressed as pirates. We loved the Pirate Splash Battle where we got to operate water cannons and aim for targets or passing ships and the Pirate Boats where we sailed into Captain Roger's secret cave and witnessed scenes of pirates having a feast or battling over treasure. At the end, there was a half naked Lego man taking a shower in the waterfalls and Angel was especially captivated by it. Don't ask me why.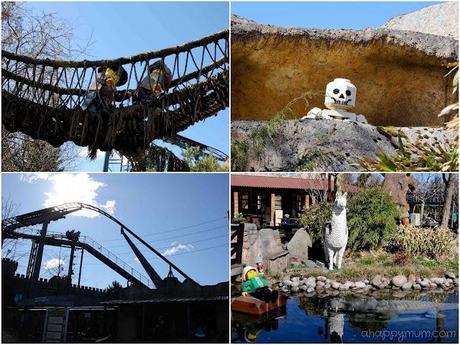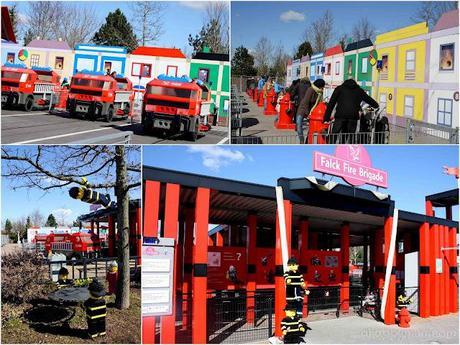 The last two worlds we visited were Adventure Land and Knight's Kingdom, which are more catered to the older children and adults. The only ride we took as a family here was the Falck Fire Brigade, where families compete to be the best fire-fighting team. When the siren sounds, you have to run to a fire engine, drive it by manually pumping a lever, reach the house, dash to the hose and extinguish the 'flames' again by pumping and aiming, then finally drive the engine back. Not kidding, I was panting at the end of this ride. *gasp* Where did all my stamina go? All my girl did was to pretend to be steering the engine and shout "Hooray" when the fire was out. Well, whaddaya expect.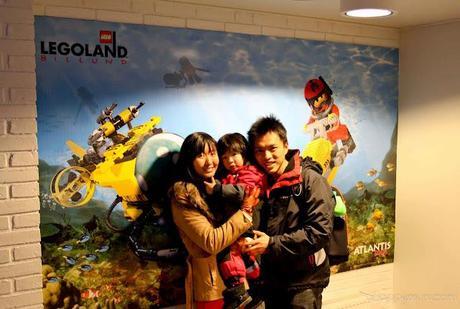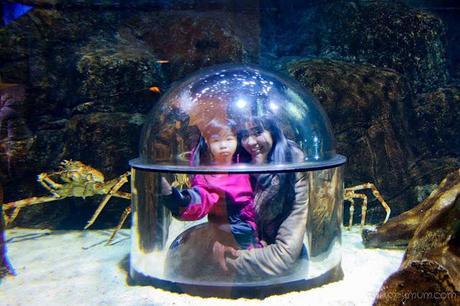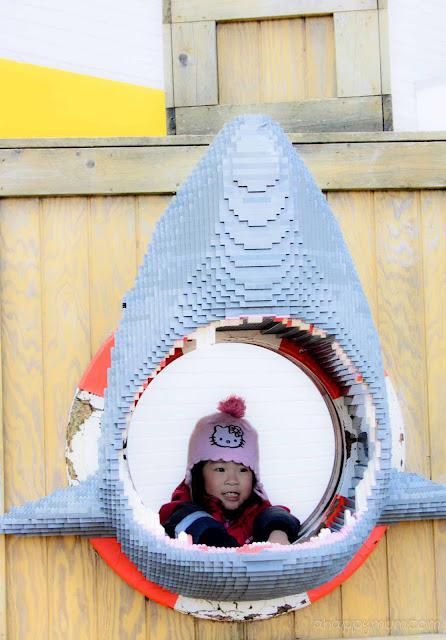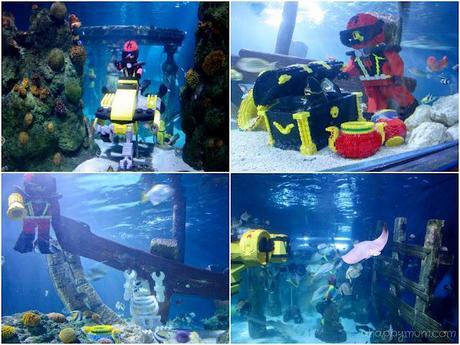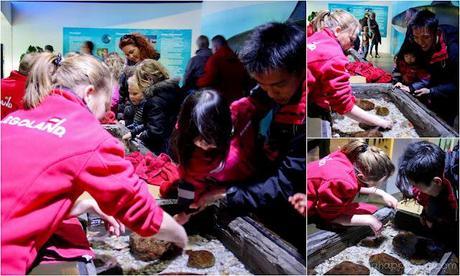 One of our favorite places to visit in Legoland was Atlantis by Sea Life - where you get to see a Lego world below the sea surface, come up close with the biggest crabs in Denmark, admire shipwrecks and tropical fish, and even have sharks swimming above your heads. Yes, we simply love aqauriums, thanks to jw's influence. He could spend hours just explaining each of the fish species to Angel and the two of them had so much fun touching and stroking the starfish and crabs.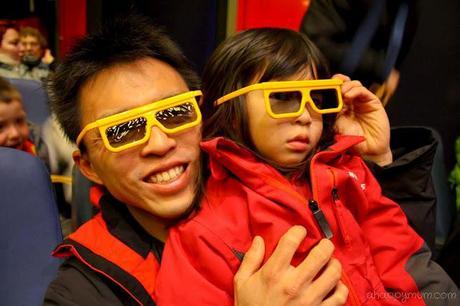 We also managed to catch a 4D show titled Lego Racers in the Lego Studios - biggest 4D cinema in Scandinavia. How do you know when your kid is really grown up? Well, previously she couldn't be bothered about the show and kept fidgeting with the 3D glasses in Disneyland, this time round, her eyes stayed glued to the screen, she could say what was happening in the show, and she truly seemed to enjoy it after having watched till the very end.  
Do we love Legoland? Absolutely yes!
Will we ever visit again? No doubt about it. The only question is which one.
Thank you so much for giving us such a memorable, unusually relaxed and ineffably happy holidays.
******
Lalandia is a popular holiday resort in Denmark and its highlight is the Aquadome - largest water park in Scandinavia and Northern Europe, in addition to other activities like indoor playground, squash, trampoline, mini golf, arcade, badminton, bowling etc.
Some of our friends told us they actually prefered Lalandia to Legoland, so how could we possibly give it a miss?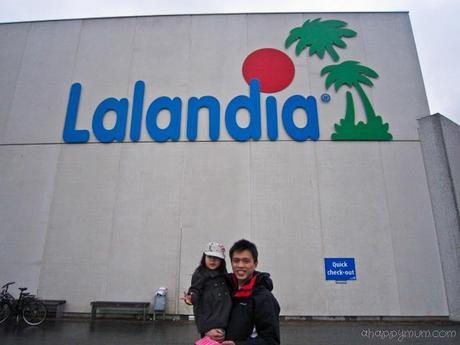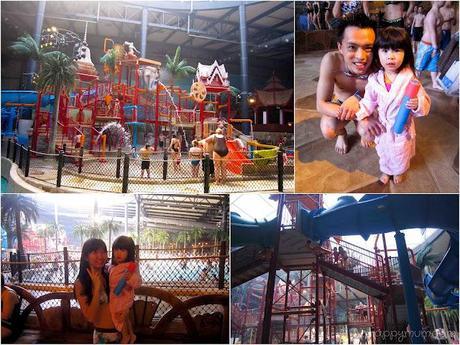 It turned out to be a whole day of water fun for us as we soaked in the warm waters of Aquadome, floated in the Lazy River, threw ourselves into the Wave Pool, tried all the exhilarating slides like Tornado and Octopus, played with water cannons, and then immersed in the indoor-outdoor spa pool - meaning you can get outdoors to feel the chilly winds while your body is still soaked in hot water.
Not surprisingly, the water-lover Angel loved every minute in this park. She had fun using pails to collect water, she did the slides at least 20 times and ended up in laughter every single time, she learnt to hold her breath when we took her to the spa pool because you had to go underwater to get outdoors, she just basically fell in love with this place and parting was such sorrow.
All good things come to an end, don't they?
******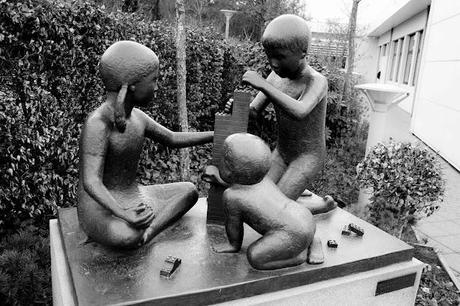 So, that marked the end of our fun Easter holidays 2012. We couldn't have chosen a more perfect place to visit and the memories left behind, well, they are just perfect.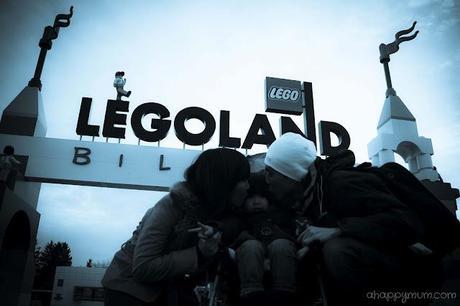 To my dearest Angel, I sure hope you enjoyed yourself tremendously and I think you did because you smiled your beautiful smile so much. I love you!
To see more of the world, visit my Travelogue page here.

******

P/S: Here's the video summary which Angel and I watch so frequently because guess what, she loves seeing herself on the screen and can't helping waving to herself on the rides. Well, as long as it makes you happy, it makes mommy too!
For a complete list of my videos, click here.