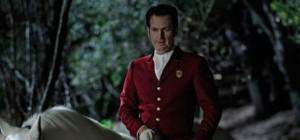 True Blood fans will remember that at the end of Season 3 Russell Edgington, the King of Missisippi, was encased in concrete by Eric and Bill and left to ponder the error of his ways indefinitely.  Many fans had hoped that we would be seeing the return of the King and his portrayer Denis O'Hare, in Season 4 but sadly it looks like we are going to have to wait another year before that happens.  O'Hare recently talked with FilmSchoolRejects.com about when we can expect to see Russell, working on True Blood and Clint Eastwood.
O'Hare begins the interview by revealing that he will not be back in Season 4 of True Blood.  There had been rumors that O'Hare was on set and filming episodes but he says:
"It was up in the air. They were definitely bringing me back, it was just a matter of if they wanted to bring me back the last couple episodes or bring me back at the beginning. So they decided to do it at the beginning of season 5."
While we are disappointed that we won't be seeing Edgington this year, we are excited at yet another reference to there being a Season 5 of our favorite show!  O'Hare goes on in the interview to talk about his character saying that he never really felt any limits as to where he could go with the King.  He says that while his character was being developed, they kept making the decision to age him.  Initially he was supposed to be 1,100 years and O'Hare had done research into that time period to form a basis for Edgington.  Once the decision was made to make him closer to 3,000 years, they decided to make the King a Pagen Celt.  O'Hare describes Pagen Celts as:
"They are just wild people. They have a very different relationship to everything in terms of nature and in terms of their own belief system. I just love that. That kind of helped make him just a different kind of character."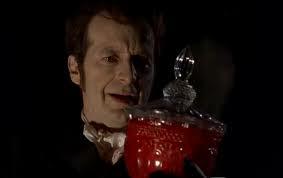 Russell Edgington was very refined and gave off an element of class and O'Hare says that the King got his style from Talbot.  In many ways Talbot changed Edgington and kept him in line.  Once that calming force was gone, Edgington reverted to his roots.  After Eric stakes him, Edgington carries Talbot around in a jar which can be considered out there even on a show like True Blood, and O'Hare says that the writers are able to keep their eye on the prize while also having fun with the scripts.  It is clear that O'Hare is very passionate about Russell and he says that Russell always has a long term plan.  O'Hare does not believe that Edgington inflicts pain just for the fun of it, but rather in pursuit of his vision of how the world should be. 
With a character that is so out there, you have to wonder how much is because of the way he is written and how much is O'Hare putting his own spin on Russell.  While the writers have the final say, O'Hare says that the show is very open creatively.  While some actors like to improvise and alter the script, O'Hare is not one of those.  With his theater training he was always taught that the script is the "Bible" and he has carried that training into this show. 
"I find that if you are changing writing it's usually because you are confronted with something that doesn't make you comfortable. That probably means that you need to go ahead and face that thing or work through that obstacle. If you are always changing things to make it comfortable, you are not either playing the character correctly or you're not actually reaching to create new acting stuff for yourself. I just find changing writing is a very, very lazy way of acting."
O'Hare recently worked with Clint Eastwood on the highly anticipated film J. Edgar which will star Leonardo DiCaprio and Armie Hammer, and he describes Eastwood as a charming, funny and intensely warm guy.  There has been a lot of speculation on whether the film would portray Hoover in an unflattering light and O'Hare says:
"You definitely get the pathology behind the guy.  There's no way you are going away from the movie going, "Oh, he was kind of a nice guy!" You're going away going, "My God! What a disaster of a person!" But he's also allowing J. Edgar Hoover to, in a way, show his point of view, which is always interesting. He had a lot of self-doubt based on the script. It's a very interesting script. I'm interested to see it myself. I was in such a small part of it I feel like I didn't get a chance to really get a grip on what they were doing."
J. Edgar is scheduled to be released December 14, 2011 but we will have to wait until June 2012 before we get to see Russell Edgington again.  To view the entire interview with O'Hare click here. 
Source:  FilmSchoolRejects.com – Interview: Denis O'Hare Discusses Being The King of Mississippi
Photo Credit: HBO, Inc.