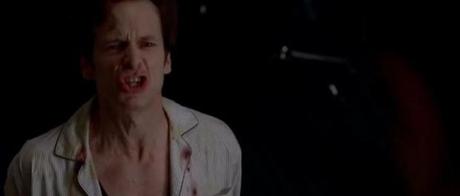 True Blood Season 4 wasn't quite the same without Russell Edgington ripping out the spine of television personalities on air but lucky for us he's back in a big way in in Season 5!  Denis O'Hare, who brings Edgington to life, took breaks from Sondheim in the Park's Into The Woods to talk to Hollywood.com and Interview Magazine about a possible new love interest for Russell, being a theater creature, the fate of Roman played by Christopher Meloni and much more.
You will recall that it was the death of Russell's long time love Talbot that prompted that infamous television scene but it looks like there is a new love interest on the horizon for the heartbroken Edgington.  He tells Hollywood.com that while he thinks Russell ultimately just wants to be left alone, he does confirm that his character is starting to mend his broken heart, saying:
"We shot a flirtation.  By episode seven or eight you'll see. It's an affair, and we all know the character."
Seeing Russell on a warpath and in a relationship is the best of both worlds for O'Hare fans but speculation is that his new love is none other than Reverend Steve Newlin!  Watching those two together would be a fantastic mix.
For about half an episode it really seemed liked Russell was about to meet the true death but we should have known the writers would have something in mind.  After seeing Nora chanting and Eric putting things together we knew there was going to be some kind of twist, but watching Russell literally turn the tables on Roman was unexpected.  There has been a lot of speculation as to whether or not Roman is actually dead and Meloni furthered the speculation by saying that "for now" Roman is dead and Denis admitted that even he wasn't sure when he first read the script, saying:
"I remember reading it and going 'So what's the deal? Is he dead? I stake him?"
For those of you who can't get enough of Denis O'Hare you can check him out in Into The Woods, which also stars Amy Adams and Glenn Close, until August 25th.  In the Interview Magazine article, O'Hare spoke about working on the play and gives us a little inside scoop on the "behind the scenes" details.  He says that rehearsing in the 98 degree heat with wool costumes is a challenge and rehearsal was done in a room as opposed to the three story set they will actually be performing on.  When asked if he has ever considered quitting any of his theater gigs he replies:
No, not me. I'm a theater creature so I've been doing it forever. It's highly dishonorable to ever quit a production. I never have done it, and I can't imagine ever doing it. However, I have been in productions before where, on the first in the read-through, you feel that someone is in trouble, and indeed, actors have been let go shortly after read-throughs. I've seen that happen before.
O'Hare goes on to talk about his first ever role and it turns out he made his theatrical debut as a pig when he was 8 years old.  Somehow that seems like a waste of talent!  His first paying role was in a play called The Voice of the Prairie and he won an award for his work in that play.  After that he went a year without working and he says it was terrifying and disappointing. 
When the interview moves on to True Blood, O'Hare cannot say enough nice things about the show:
You know what, I love the culture of True Blood; I love the family of actors. People always say, "Oh, it's a great group," but it really is a great group, and anybody who's ever worked on True Blood kind of comes away ruined because it is one of the better sets in the world, meaning, it's very, very chill. It's very friendly. It's very professional without being uptight, so people don't mess around—they actually do their job well. And the material, while from the outside it may look camp and fun, we take it really seriously. So when you have a scene where you're threatening somebody else with their life, you've got to bring the stakes, pardon the pun. I love the job for that. And in the meantime, you get to do fantastic things. An episode that's already aired for me is an episode where I got to kill Chris Meloni. That's fun. I also get great writing. The writers really seem to respond to certain characters, like Pam – they seem to love writing for her, and Lafayette, they seem to love writing for him. The writers just love writing for Russell, and it's a gift.
When asked if the actors make any contributions to the writing process of the show, O'Hare says that for the most part the actors stick to their jobs and the writers do theirs.  Some actors may make suggestions on a line by line basis but for the most part they do what they are given.  It seems that the writers are as tight lipped as the actors on the show and don't even like giving hints about the characters fates to the actors themselves.  Some are better at getting information out of the writers than others so O'Hare jokes that he will go to those people for information and they talk at the Craft service table.
It seems that everyone has an opinion on who Sookie (Anna Paquin) should end up with when its all said and done and O'Hare is no exception:
You know, it's tough. Obviously, I'm still a Bill fan just because I feel that that's the most natural relationship for them. He seems like a marrying type. Eric obviously is never gonna settle down. Joe [Manganiello, who plays Alcide], while he's amazing eye-candy and has this fun esprit de corps, just seems a little unstable. So, I'm a Bill fan. What can I say? That was the most romantic pairing for me.
After Into the Woods, O'Hare is hoping to spend some time with his husband and son since he has been working on back to back projects for a couple of years.  You can read the full Interview Magazine article by clicking here.
In Into the Woods, a witch's curse condemns the Baker and his Wife to a life without children. They embark on a quest to find the four items required to break the spell: the cow as white as milk, the cape as red as blood, the hair as yellow as corn, and the slipper as pure as gold. Will they succeed?  And what happens after "happily ever after?"
You can obtain free tickets either the day of at the Delacourte Theater in Central Park or online by clicking here.
Source: Hollywood.com – 'True Blood' Villain Denis O'Hare Teases Russell Edgington's New Romance And More
Interviewmagazine.com – Denis O'Hare on Bakers, Pigs and Vampires
Shakespeareinthepark.org
Photo Credit: HBO