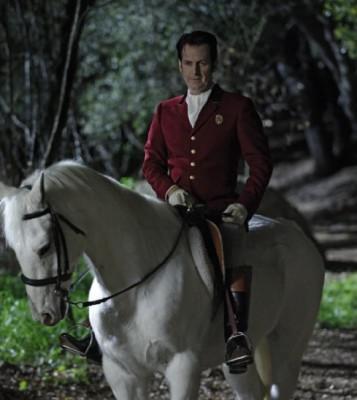 It's a long wait until True Blood Season 5 airs in June and shooting for the new season doesn't even start until the end of November or early December, but it's good to see Denis O'Hare has been active in another supernatural story, "American Horror Story".  
Below are excerpts from a recent phone interview with Collider, where Denis O'Hare talked about the mysterious burned man that he plays on American Horror Story, how he sees Larry Harvey as both sympathetic and scary, the more than three hours of detailed make-up work he goes through to bring the character to life, and how he sees this as a show about our deepest fears.
Additionally, Denis also talked about how excited he is now that the door has been opened for Russell Edgington to return to True Blood in Season 5, his love for his character on The Good Wife, the experience of doing a role in Clint Eastwood upcoming drama J. Edgar, and that he's preparing for a one-man show.
Question: How did you get involved with American Horror Story? Were you looking to do another TV show, or were you approached about doing this role?
DENIS O'HARE: You know, I wasn't looking to do another show like this. I have an ambivalence about TV because I don't ever want to get stuck in any sort of rut, or in any series, so I hadn't necessarily been looking for a big gig. I had just come off of J. Edgar, with Clint Eastwood, and was staring into the abyss of an empty summer. And then, I got a phone call from my agent saying that Ryan Murphy wanted to speak with me. I had never met the man, but had, of course, heard of him. I was an admirer, but didn't quite know what to expect.
So, he called up and was very direct, and very interesting and wonderful, and he basically said, "I'm creating a new series, and I would love for you to read the script." I was like, "All right," so he sent me the script and I read it, over the weekend. On Monday, he called back and said, "What do you think?," and I told him that I thought it was really unusual and interesting, and I was intrigued by the part that he asked me to look at. He explained a little bit about what Larry would be and do, and then he said, "Would you do it?" I said, "Yes," and he said, "Okay," and we got the deal made really quickly, in three or four days. It was crazy.
How would you describe this series to people?
O'HARE: It is difficult. I've said it's like The Shining meets Twin Peaks meets The Amityville Horror meets Lars Von Trier's The Kingdom. It's got elements of all of that. It's got the weirdness of the population of Twin Peaks, it's got the crazy momentum of The Shining, and it's got the haunted house, slow motion reveal of The Amityville Horror. But, ultimately, it's its own thing and it lives in the mind of Ryan Murphy. In a year or so, I think you'll hear people starting to say, "Yeah, it's like American Horror Story," and use this as a reference because it's so unique.
Who do you think the audience is, for this show?
O'HARE: That's a good question. I don't know the answer to that. I think there's a really big overlap between sci-fi and horror, and then there's also a big overlap between the normal TV viewer and horror. Horror, unlike sci-fi, doesn't feel like such a niche genre. When you've got unbelievable actors like Connie Britton, Jessica Lange, Dylan McDermott and Frances Conroy, you're going to be drawing in a different dynamic. Jessica Lange, alone, raises the bar so high that it peaks people's interest. Connie Britton, coming off the success of Friday Night Lights, certainly brings an audience with her. We may even get some vampire fans watching the show. It's FX, so they already have their own built-in demographic. People are watching Sons of Anarchy, and other shows. I'm curious to see what actually happens.
As much as you must have been asked, over the last season, whether or not Russell Edgington would return on True Blood, was exciting to finally have that door opened for this coming season?
O'HARE: Hell, yes! I had been hearing rumors and things, but until I actually heard that there was a script, in which they went to the parking lot and found a hole in the ground and chains, I wasn't sure. I've been in contact with people from True Blood, and I'm friends with a lot of them, and Joe Manganiello, who plays Alcide, actually told me first. He was like, "Dude, there's this scene where I go to the parking lot and you're not there anymore," and I went, "Yes!" I'm really thrilled. I love that family. Alan Ball is such a spectacular person to be around and to work for. I'm really excited to get to go back and join them, and I love the character. I can't wait to pick up where he left off.
Have you thought about how he could be now, with the time that's passed?
O'HARE: He could change. His experience has, maybe, redefined him and shaped him differently.
Are you surprised with how much everyone truly loved the character?
O'HARE: I was. I didn't expect it, and I was a little shocked, but ultimately, I'm really pleased. It's a very nice thing to have happen. I was really thrilled.
Read this entire fascinating interview by going to: collider.com