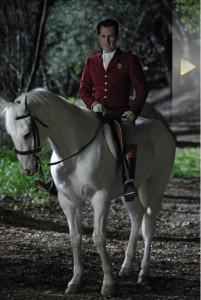 The last we saw of Russell Edgington, was when he was being covered in cement at the end of Season 3.  However, we already know that this state for a 3,000 year-old vampire, is only temporary.I sure hope that Denis O'Hare is going to come back to True Blood.
When Denis O'Hare was asked to play the latest antagonist, Russell Edgington, the vampire king of Mississippi on "True Blood," accepting the role was a no brainer.
"It's one of my favorite shows," O'Hare says. "It's rare that you get to do a show that you actually love. It actually made me afraid because I loved it so much that I couldn't imagine being in that world.
"But once I got in the part and started thinking about it, I just got excited about the fact that it was a very powerful and charming character. It was such fun to play."
Edgington comes to Louisiana hoping to begin a war with its vampire queen and ultimately eliminate the human race. But tables turn, and when Edgington's lover and progeny, Talbot, is slain, the vampire goes on a rampage, including ripping a newscaster's spine from his body during a newscast.
O'Hare doesn't think his character should be labeled crazy, though.
"He becomes unburdened of a certain kind of civility because Talbot sort of held him in check," O'Hare says. "With that mitigating force gone, he reverts in a way to his most pagan, native self. And another thing is he's just in pain. He's descending into a kind of Shakespearean grief and pain."
O'Hare says he's lost his "comfortable anonymity," but enjoys his interactions with devoted fans. As for those that hope he'll return?
"I would love that too," he says. "I know that Alan (Ball) and the writers wrote the ending of season three in order to keep their options open and Russell's not dead. That's all I'm saying."
My money is on Denis returning to True Blood, but who knows when that will be?  Do you think he is coming back and if so, when?
source: variety.com