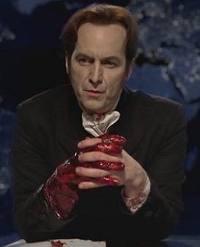 I love it that True Blood is so anticipated that we are already talking Season 5. Everyone has been hoping for the return of  one of our favorite actors, the diabolical and yet, wonderful Denis O'Hare. In Season 3, Denis played the evil Russell Edgington and when we last saw him, Bill (Stephen Moyer) and Eric (Alexander Skarsgård) sealed Russell in a cement grave. When Russell vowed that he'd be back, we knew that was leaving the door open for his return to the show.
After the vampire king of Mississippi, changed the path of vampire-human relations last season on True Blood with a televised display of blood thirst, the character's return may be one of the most anticipated of the series.
"He's been locked away," executive producer and writer Alexander Woo told The Hollywood Reporter earlier in the season. "So he's kind of a time bomb. He could come back in any moment."
THR caught up with Denis O'Hare Saturday at the Television Critics Association (TCA) Press tour where he was promoting his new FX series, American Horror Story. We had a moment to speak to him about whether the return to the HBO series will actually come to fruition.
THR: True Blood fans have been waiting eagerly for Russell Edgington's possible return. Here we are halfway through Season 4 and nothing. Did that ever come to fruition?
Denis O'Hare: I think [series creator] Alan Ball was asked recently about Russell's return and he said, 'Russell's not dead.' And I can't do better than that. So, I'll just reiterate what he said. Russell is not dead.
THR: So, fans shouldn't give up hope?
O'Hare: Never give up hope. Never give up hope.
THR: What do you think Russell's unfinished business is?
O'Hare: It's a great character and I feel he hasn't been able to completely express his dreams yet. I think more than any of the other vampires that season, he has ambition and huge dreams, an incredible life force. I'm still attracted to that and I think he needs to fulfill whatever it is the thing is he's aiming for and go out in a blaze of glory in whatever it is he needs to do. He's not just a passive character. He's charging forward with a plan and I think we need to see his plan.
THR: In many ways Russell shapes the events of this season with his actions. Did you expect that when you took on the role?
O'Hare: No. I think it's really interesting, because I think with True Blood it's the strongest when it talks about the interaction between vampires and humans. And so any way that the show can bring that in, then the show gets a real spine. Pardon the pun.
source:hollywoodreporter.com