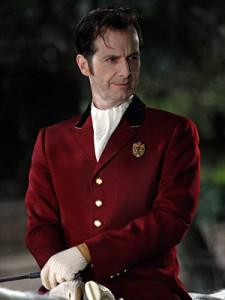 All the True Blood fans are anxiously awaiting the return of the evil, but fabulous Russell Edgington. He was played brilliantly by Denis O'Hare in Season 3 until he met his end by being buried by Bill and Eric in concrete, or did he? All during Season 4 he remained buried, but at the end of the season the place where he was buried was found empty.
Rumors have been flying that he will now return to us in Season 5 from both Denis himself as well as the series creator, Alan Ball. Below is an interview with Denis from the Boston Herald where he talks about his return as well as his latest portrayal of Larry, a tortured soul, in American Horror Story.
Denis O'Hare knows scary.
Not because he plays the unhinged Russell Edgington, the vampire king of Mississippi on HBO's "True Blood," or the creepy, scarred Larry Harvey on FX's "American Horror Story" (Wednesdays at 10 p.m.).
It's just that the 49-year-old actor has an affinity for things macabre.
"I was steeped in the monster genre from the time I was 10 years old," O'Hare told the Herald. "I was contemplating Vincent Price, actually, and if I ever had a childhood hero, it was Vincent Price. I was thinking about those old Saturday afternoon horror films I watched as a kid, and they really stayed with me. I was a monster freak growing up."
That education has come in handy lately. O'Hare shined as the bloodthirsty, unforgettable Edgington in the third season of "True Blood," and now as the disfigured Larry Harvey in "American Horror Story," a dark series that may be difficult to define.
"I always say it's 'The Shining' meets 'Twin Peaks' meets 'The Amityville Horror,' " O'Hare said. "It's got so many strange elements, and it's not simply a horror show. It's got so many other things going on. It's a lot more psychological, but the style is so odd and forward-thinking."
O'Hare plays the mysterious former owner of what looks to be a cursed house. He stalked the home's new owner, played by Dylan McDermott, and revealed himself to be a disfigured, tortured man.
"The thing about Larry that's so great is that he is foremost a human being who is in a great deal of personal and physical pain," O'Hare said. "He's acting out of a strange compulsion to be set free. He's looking for redemption — a way out."
While Larry shows a kind side by offering warnings about the malevolent house, there's still a darkness about him, revealed in small looks.
Still, he's no vengeful vampire.
"Russell is much more scary than Larry," O'Hare said of his two recent TV alter egos. "Russell is a passionate character whose only motivation is to stay alive. He is so filled with forward motion and momentum about what he wants to do that he's burning up with a desire to act. Of course, Russell is amoral in the great pagan sense — he doesn't have the burden of our Judeo-Christian morals. He's hard to parse because he's playing by a different rule book."
Have Truebies seen the last of the spine-punching vampire king?
"Anticipation is a great thing and I'd hate to kill it," O'Hare said. "If you watched the finale, you know he's no longer buried, but I have no idea what the writers will do. I have my ideas, but it might not be a straight linear line from the end of the last season."
Until then, he's content to sit for three and a half hours in a makeup chair being transformed into a burn victim and creeping out "American Horror Story" audiences.
"I love a good villain," he said. "There is nothing clear-cut and simple about a villain. Ever."
source: bostonherald.com