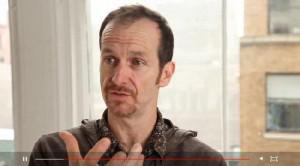 Denis O'Hare plays the vampire King of Mississippi, Russell Edgington, so well on True Blood that it's hard to imagine anyone else in that role. He simply nails it. He's one of the guys you should probably hate, but you really can't because he's so brilliantly demented and funny. In his non-actor world, O'Hare is versatile and outspoken and a self-proclaimed "gay socialist atheist". In his more than 18 years of acting, O'Hare has played a dynamic range of characters and thinks the "best thing about acting is when you don't have to act," which is something he appears to do each time he takes on a new character. O'Hare sat down with Imagine Fashion (iF) recently to discuss, well,  a lot of things, and got serious about how he feels about acting in general, and acting in True Blood:
"…people keep saying, oh True Blood is so campy, it's so campy – not from the inside. Nobody I know on that set is playing at anything. They're going full force. Anna Paquin acts full out every time. She cries real tears. She pays a real price. Everyone is acting full out all the time. The fact that people say it's camp is because, you know, some of the situations are ridiculous. The world is kind of ridiculous, but it's not because the actors are winking at the audience. They're not. So the house style in True Blood is not campy. The house style is deadly serious."
Imagine Fashion just launched this year and is aiming to redefine how we view, hear and connect with the worlds of fashion, film, music, art and design forever. It's an inspirational and aspirational moving content experience, providing its audience with a revolutionary level of interaction. Click here to watch iF's interview with Denis O'Hare in its entirety.
Source: Imagine Fashion - Drink the Glass of Water – Denis O'Hare
Photo Credit: Imagine Fashion