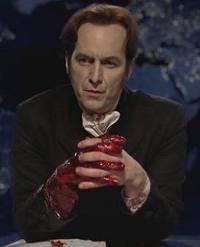 We surely hope that lots of the True Blood cast members, writers, producers, directors, and all the crew get nominations for this year for Emmy awards.
However, with the caliber of TV that we've seen recently, especially on True Blood's network, HBO, we know there will be stiff competiion this year.
But, no one can deny the one name that has been mentioned over and over for this year's Emmy consideration and that is, Denis O'Hare who played Russell Edgington, the King of Mississippi in Season 3. Denis' portrayal was non only "spot on", but he made the character way more interesting then anyone expected.
Backstagecasting.com agrees with us. They have a list of what they consider to be "Emmy Contenders" that should not be overlooked.  On their list is, of course, Denis O'Hare. And, they mention him along with John Noble and Mae Whitman as three actors who have had supernatural seasons on their shows, "Fringe," Parenthood," and "True Blood."
Here's what they had to say about Denis' performance:
Denis O'Hare Stays 'True' to His Craft – Hilarious and terrifying—sometimes within the same scene—O'Hare was consistently terrific as Russell in "True Blood."
We are all aware that sci-fi and genre shows are often overlooked at Emmy time, but we think it's time for the Emmy people to get their head out of the sand and recognize True Blood more, and often. While Denis' performance was astounding, we also think that many of the other cast deserve nominations along with the excellent writing staff, directors, set designers, etc.
The Nomination Announcements will be seen live on Emmys.com Thurs, July 14 at 5:35 am (Pacific) with celeb hosts Melissa McCarthy (Mike & Molly) and Joshua Jackson (Fringe). We hope to see a big list for True Blood this year!
source backstagecasting.com