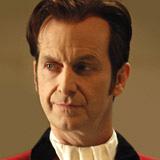 Here at The Vault we were hoping for the return of Russell Edington in the Season 4 finale, but that is not going to happen.
"I know, I know. It was up in the air." Denis O'Hare tells Filmschool Rejects. "They were definitely bringing me back, it was just a matter of if they wanted to bring me back the last couple episodes or bring me back at the beginning. So they decided to do it at the beginning of season 5."
So that is excellent news! Denis and Russell will be back for Season 5!