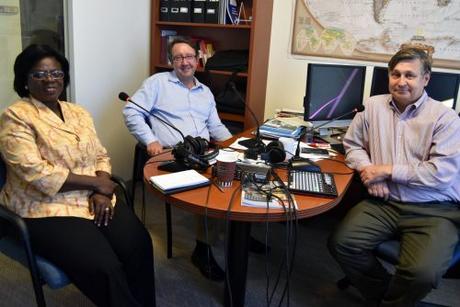 From left: podcast guest Omowumi Gbadamosi, with hosts Lars Benson and Ken Jaques
" data-orig-size="2048,1365" sizes="(max-width: 500px) 100vw, 500px" data-image-title="DSC_0338" data-orig-file="https://i0.wp.com/www.cipe.org/blog/wp-content/uploads/2017/08/DSC_0338.jpg?fit=2048%2C1365" data-image-meta="{"aperture":"0","credit":"","camera":"","caption":"","created_timestamp":"0","copyright":"","focal_length":"0","iso":"0","shutter_speed":"0","title":"","orientation":"0"}" data-medium-file="https://i0.wp.com/www.cipe.org/blog/wp-content/uploads/2017/08/DSC_0338.jpg?fit=640%2C427" data-permalink="http://www.cipe.org/blog/2017/08/01/democracy-that-delivers-78-omowumi-gbadamosi-on-economic-and-democratic-progress-in-nigeria/dsc_0338/" alt="" data-recalc-dims="1" srcset="https://i0.wp.com/www.cipe.org/blog/wp-content/uploads/2017/08/DSC_0338.jpg?resize=640%2C427 640w, https://i0.wp.com/www.cipe.org/blog/wp-content/uploads/2017/08/DSC_0338.jpg?resize=600%2C400 600w, https://i0.wp.com/www.cipe.org/blog/wp-content/uploads/2017/08/DSC_0338.jpg?resize=768%2C512 768w, https://i0.wp.com/www.cipe.org/blog/wp-content/uploads/2017/08/DSC_0338.jpg?resize=800%2C533 800w, https://i0.wp.com/www.cipe.org/blog/wp-content/uploads/2017/08/DSC_0338.jpg?w=1000 1000w, https://i0.wp.com/www.cipe.org/blog/wp-content/uploads/2017/08/DSC_0338.jpg?w=1500 1500w" class="wp-image-18023 size-medium" data-large-file="https://i0.wp.com/www.cipe.org/blog/wp-content/uploads/2017/08/DSC_0338.jpg?fit=500%2C334" />
From left: podcast guest Omowumi Gbadamosi with guest host Lars Benson, and host Ken Jaques.
This week on CIPE's Democracy that Delivers podcast, CIPE's Country Director in Nigeria, Omowumi Gbadamosi, discusses economic and democratic progress in Nigeria. Gbadamosi began her career with CIPE in 1988, and the most dramatic change she has seen in the last thirty years is the transformation in Nigeria from a military dictatorship to a democracy.
Gbadamosi believes the Nigerian government is now listening to the needs of the private sector, but the government needs to learn to respond. She is optimistic about Nigeria's future as CIPE's partners have continued to push for reforms.
Her advice to Nigeria's private sector is to be resilient. Gbadamosi says working with the public sector can be dispiriting; it is essential for those in the private sector to stay persistent because advocacy is a continual process.
Want to hear more? Listen to previous podcasts at CIPE.org/podcast.
Subscribe to the podcast on iTunes or on your Android device.
Like this podcast? Please review us on iTunes.