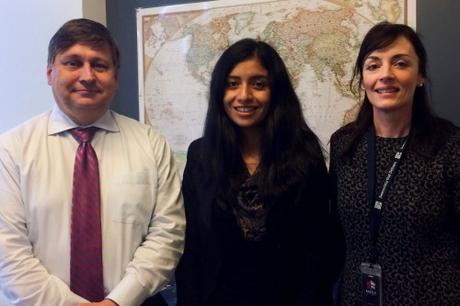 From left: Podcast guest Angela Ospina (center) with hosts Ken Jaques and Julie Johnson
On this week's Democracy that Delivers podcast, Colombian trade advisor Angela Ospina discusses what is involved in making trade policies work. Ospina explains her current work as a trade advisor at the Colombian Mission to the European Union where she focuses on international trade policies, particularly World Customs Organization regulations. She talks about growing up in Bogota, her interest in travel and international relations, and how her experiences studying for her master's degree in Japan influenced her approach to trade policy and its implementation.
Ospina discusses the significance of a peace agreement in Colombia and her optimism regarding the economic future of her country. She also talks about how seemingly technical trade issues play out in people's daily lives. The hardest part of her job? Not the policymaking itself but ensuring that policies will work in practice.
The views expressed in this discussion are those of the guest Angela Ospina and do not represent those of the Government of Colombia.
Want to hear more? Listen to previous podcasts at CIPE.org/podcast.
Subscribe to the podcast on iTunes or on your Android device.
Like this podcast? Please review us on iTunes to help other listeners find the show.