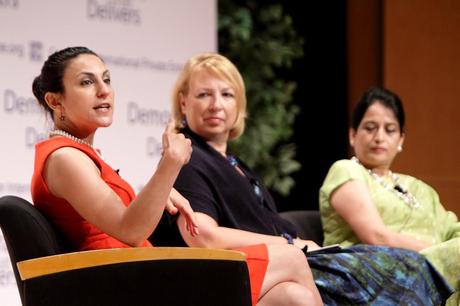 From left: Gayle Tzemach Lemmon, Mary Schnack, and Selima Ahmad speaking about women's economic empowerment during day one of Democracy that Delivers for Women. (Photo: CIPE)
We're just starting day two of our Democracy the Delivers for Women conference in Washington, DC. We had more than 250 people participate on Monday, and we had some fantastic panelists and speakers, including Ambassador Melanne Verveer, Charlotte Ponticelli, and Gayle Tzemach Lemmon.
Amb Verveer focused on optimistic realism. Her final comment discussed the importance of women rising in order to empower us all. Charlotte Ponticelli pointed out that our discussions often focus on gender, which is amorphous, instead of women. Gayle Lemmon told the story of women in Afghanistan operating businesses under the Taliban and how they earned respect from their husbands and fathers and sons by providing for their families and targeting new market spaces.
In addition, we had focused discussions on women's business associations and the role they play, women in the Middle East, and corporate citizenship efforts worldwide.
The Cherie Blair Foundation, Vital Voices Global Partnership, La Pietra Coalition, others tweeted live from the conference. Follow along today with Twitter hashtag #dtdw, or under CIPE's Twitter feed, @CIPEGlobal.
We're looking forward to our Day Two opening session with Henriette Kolb, CEO of the Cherie Blair Foundation. If you're in DC, come on down to the Reagan Building and International Trade Center!