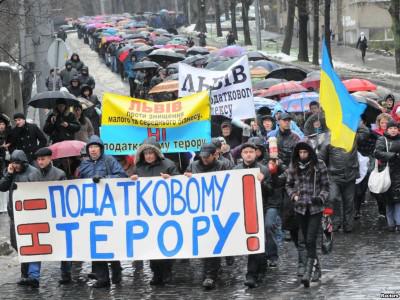 Entrepreneurs and small business owners protest a new tax law in Ukraine in 2010 (Radio Free Europe/Radio Liberty)
Just over a year ago, in December 2010, riot police in Kyiv brought to an end a series of street protests by entrepreneurs against a new tax code. The arrests could well have ended the months-long national movement to block a new tax system that entrepreneurs said would put them out of business.
Instead, many of the small-business activists organized themselves into new groups or joined existing business associations. They eventually formed a national coalition – with some organizational guidance from CIPE – that spent much of this year pushing for more SME-friendly tax legislation. Ukraine's parliament recently passed that legislation, which is awaiting the president's signature. The whole episode illustrates how – at its best – democracy can function in Ukraine.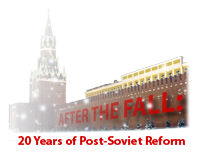 This obviously isn't true everywhere in the former Soviet Union, judging by Freedom House's annual assessment of the state of democracy in the region. In an insightful essay, Freedom House looked at some of the reasons for the poor track record on democracy of the Soviet successor states, alternately blaming entrenched leaders, the natural resource "curse" that afflicts some countries and the territorial disputes of other states.
For a variety of reasons, democracy in Ukraine has proven remarkably sturdy, despite dire predictions in 1991 that the country would split along east-west lines by language and religion. While in decline under the current government, Ukraine's democratic freedoms still compare well to other countries in the region.
Ukraine's political parties and leaders are quarrelsome and prone to intrigue. This can lead to ineffective government and citizens' disenchantment with the political process, as borne out by a recent public opinion poll by the International Foundation for Electoral Systems (IFES). In one telling result, only 4 percent of 1,515 people surveyed believed that the country's political parties actually served the interests of the Ukrainian people. The poll also shows decreasing levels of confidence in national leaders, whether they are in power or in opposition.
On the local level, though, respondents are expressing greater confidence in municipal elected leaders. This bears out the recent experience of CIPE in creating local coalitions of business association leaders to better represent entrepreneurs in democratic processes.
This post is part of a series on the fall of the Soviet Union, the 20 years of reforms that followed, and the challenges that lie ahead.