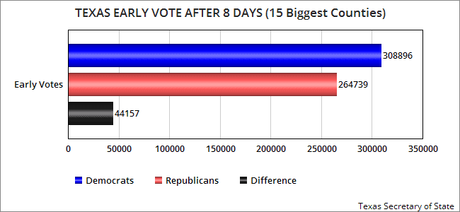 There has now been 8 days of early primary voting completed in Texas (February 20th through February 27th), with three more days to go (early voting ends on March 2nd). The top chart shows the total number of voters that have cast votes in each party's primary.
It shows that enthusiasm remains high among Democrats -- far higher than in previous years. Through the first 8 days, about 44,157 more Democrats (308,896) have voted than Republicans (264,739). These numbers (from the Texas Secretary of State) are only from the largest 15 counties in the state, but those counties contain about two-thirds of the state's registered voters. The chart below shows the totals in each of those 15 counties.
This is very encouraging. If the Democrats can turn out this well in the Fall, and Independents (who don't vote in party primaries) break for Democrats, this could actually be a very competitive election -- something Texas hasn't seen statewide in more than two decades.