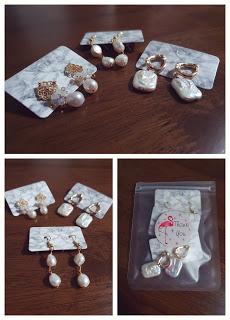 This week pretty much sucks. I am so drained. I am not even sure whether it is a pregnancy thing or my poor health. There is just so much to do, buy and decide...bleh to housing and pregnancy decisions. Also, I just want to clear off any work and writing backlog before baby arrives. Baby has been blessing me with pretty good skin but me having itchy fingers went to squeeze an old blackhead and voila, I got a bad acne T.T
But one thing never fails to keep my mood up and it is pretty accessories. By now, you would have reckoned my love for pearls. And woots I found DeLynn_Lyd that makes pretty awesome pieces. I used a filter for my photos. Hey, that's cos I don't want my little zit to destroy the beauty of the pearls.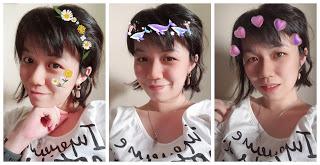 1. Flat Pearls
The creation at DeLynn_Lyd doesn't really have names so I gave every piece of them a descriptive piece. This is a very raw piece of rectangle-shaped pearl. Some people don't really like the uneveness while others dig its natural form. Sometimes, I am quite thankful I am having a baby boy because I can't deal with another pearl snatcher. 
This piece caught my Mum's eyes pretty fast and she flatly told me "I want it".  Mother and daughter, we both love our pearls and are on a quest to collect all the different designs. My Mum obviously has a bigger collection than mine and is lacking one in its raw form, so as the great daughter I am, I sadly bid adieu to this piece.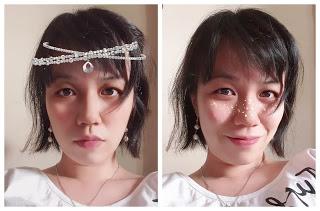 2. Dangling Pearls
I have single dangling pearl, this is my first duo piece. It actually looks better than I thought. Tried out a head filter and immediately I felt like a queen. I don't know, I might want to feature this in a maternity shoot. There is something queenly about it and I am not sure how the term "Mother Pearl" came about...it might just mean a mother must wear pearls. Hehehe. 
The thing about pearls is that their design are always simple. And perhaps they are born to be designed simple to bring out its charm. I have different variations of simple pearl and sometimes I yearn for something a little bit more complex which doesn't always play out too well, which brings me to the next piece.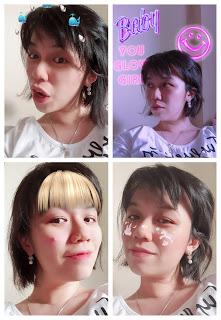 3. Complex Pearl
This is a classic case of what you like may not always look good on you. I love the intricate design but on me, it just didn't really stand out. Maybe it is also an age thing, my Mum always tell me as you grow older, you like bigger jewelry. Bigger is better. I think if you have a smaller face, this might look good on you. 
I was also quite adventurous with my filters this time round. I have to say I look pretty good with blonde fringe. Maybe this should be my new look after baby is out. Let me know what you guys think!