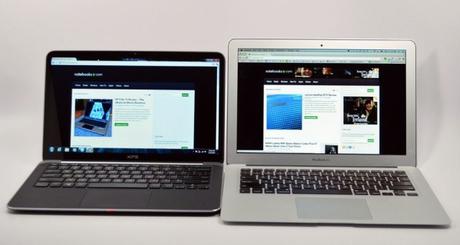 At the beginning of this year, Dell has released the XPS 13 laptop, which has a nice design and great specs, being priced at around $1,000. The MacBook Pro 13 has a similar price and a 13.3-inch Retina screen and an Intel Core 5 processor, but which has a higher clock speed. In this article, we'll tell you more about their specs, and if you like any of these laptops, then now it's time to sacrifice your savings and replace your old device.
Designs
These laptops are not looking cheap like those models with a black polycarbonate chassis, as the MacBook Pro 13 comes with a matte silver design, it's very slim and, but the Dell XPS 13 is slimmer, and has an aluminum frame and a carbon-fibre keyboard surround, which is very soft to touch. The MacBook is 200 grams heavier, but Dell's laptop is as rigid as Apple's device, but it has a more premium aspect.
Keyboard and touchpad
Both laptops have a backlit keyboard and you won't need to push hard on the keys, and also, you won't get tired when typing for a long time. However, the MacBook Pro 13 wins the battle because it has a touchpad which benefits from the Force Touch technology and it responds to various levels of pressure. The Dell XPS 13 has a smaller touchpad, which has a standard form, with integrated buttons.
Displays
The Dell XPS 13 has a WLED backlight sized at 13-inch, which supports a resolution of 1366 x 768 pixels and has an aspect ratio of 16:9. The 13.3-inch Retina Active Matrix TFT Color LCD screen of the MacBook Pro 13 supports a lower resolution of 1280 x 800
Pixels and the aspect ratio is 16:10. So, the Dell XPS has a sharper display, but the MacBook Pro 13 is better for watching movies, because the aspect ratio was chosen especially for this type of use.
In terms of color reproduction, well, Dell managed to reproduce 95% of the sRGB color gamut, while the MacBook Pro reproduced 98%. As for the brightness, on Dell's screen reaches 418cd/m2, while the MacBook laptop reaches 400cd/m2.
Hardware
The Dell XPS 13 is powered by an Intel Core i5 (2nd Gen) 2467M dual core processor clocked at 1.6 GHz, but which can reach a max Turbo Speed of 2.3 GHz, which is backed by 4 GB DDR3 SDRAM and it's kept alive by a 6-cell lithium polymer battery.
The MacBook Pro 13 features an Intel Core i5 dual core processor clocked at 2.50GHz, but it's backed by either 4 GB or 8 GB of DDR3 SDRAM and the battery lasts, approximately, seven hours.