As his final output as a Creative Writing student, budding young playwright Riley Palanca offers "Delight/Delirium", a festival of four one-act plays, under the supervision of multi-award-winning writer Paolo Manalo.
It runs August 31-September 2 at the Teatro Hermogenes Ylagan, Faculty Center, University of the Philippines, Diliman.
This festival of four one-act plays, under the direction of Arkel Mendoza, Chic San Augstin, J Victor Villareal and Katte Sabate, looks into that triggering incident that shifts the human experience from delight to delirium. The plays include:
BRO. When five high school boys huddle in one of their friends' house's basement to engage in their usual drug and alchohol sessions, each boy zooms in on an incident in their group's life, breaking down the barriers between individual and group, ultimately leading them to question why they became friends in the first place.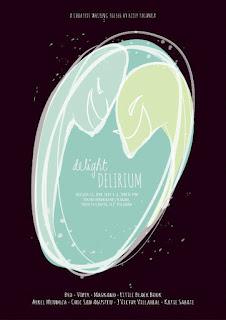 VIPER. In a post-apocalyptic Philippines where the clergy has taken control of the government and gay people are being massacred, Viper, a high-ranking rebel soldier, attempts to resurrect his murdered lover by kidnapping and interrogating an imperial priest on the whereabouts of a specific body part--only to find out that its discovery comes with a price.
MAGKANO. One night that could have been typical for two people: the first, throwing himself into the world while in search of himself; the second, willing to oblige, but for a price. Both callboy and client are trapped in an endless negotiation about boundaries and fetishes. When the games begin, their notions of love, sex and relationships are put on the dock.
LITTLE BLACK BOOK. One man questions his present by rooting through his past, clawing through the shards that make him whole. A confession with no penance.
For inquiries, call +63-9159705508 or e-mail [email protected] Follow on Facebook http://www.facebook.com/delightdelirium2012 for updates.