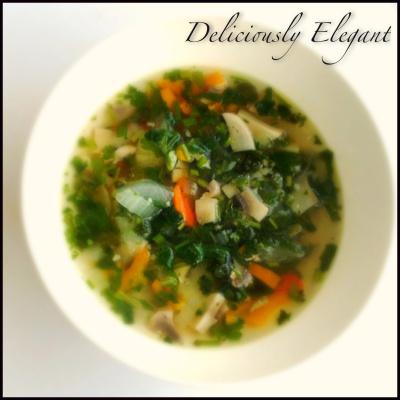 Serves 4-5
Ingredients:

1 celery stick
1 medium potato
1 carrot
1 medium onion
1 bell pepper
4 cloves of garlic
2 medium size mushrooms
1 batch of parsley
2 tbsp of grape seed oil
Sea salt and black pepper to taste
Instructions:
Fill medium to large pan with water then place a whole celery stick into the water and let it boil for 30 minutes to 2 hours. Take out celery stick from the water. Add chopped potato and let cook for about 15 minutes and then add chopped onion, carrot and bell pepper. Cook for about 5-10 min then add sliced or chopped mushrooms, sea salt , black pepper and grape seed oil. Cook for an additional 5 min and turn off the stove. Add chopped parsley and squeezed or diced garlic. Let it stand for about 10 minutes and serve.