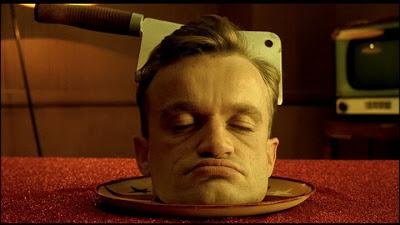 Delicatessen
 is an oddball film. The story is set in a "post-apocalyptic" world where grain is used as currency (due to the fact that hardly anything grows from the earth anymore). A butcher is the owner of an apartment building where he proceeds to butcher some of his tenants to provide food for the remaining tenants. The only way for him to refrain from massacring his tenants is to place ads in the newspapers asking for a repairman for the building. The hired repairman then becomes fodder for the tenants, helping them survive a little while longer. At the beginning of the film, one such repairman (who in my opinion resembles Salvador Dali) attempts to escape, with no success.
   A new repairman, Louison (a former clown) is hired, despite his small stature and skinny frame. Some of the tenants (particularly the butcher's lover) do grow to be fond of his clown-esque charm. However, most root for his demise, especially after a relationship forms between Louison and the butcher's daughter, Julie. Julie hates her father's methods and does not eat eat, much like Louison. A quirky romance blossoms between the two, driving Julie to seek help from the Troglodistes. The Troglodistes are underground, vegetarian rebels. They promise to help Julie save Louison after she informs them of her father's huge bags of currency (see: grains) in the building's basement. The process does not prove to be easy with the involvement of the eccentric tenants.
  Sprinkled throughout the surreal plot are a colorful bunch of characters. My favorite is Aurore, one of the tenants who is pushed by voices to attempt suicide in very comical and complex situations (what do a lamp, a bathtub, red satin, and a doorbell have in common?)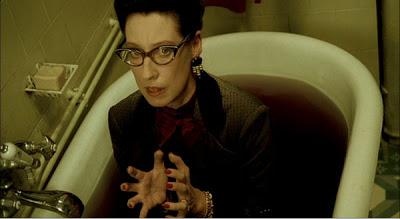 Delicatessen's batshit crazy Aurore
  There are, though, several more eccentric characters, ranging from a man who keeps snails and frogs in his apartment, refusing to revert to cannibalism; to a man who sells out his mother-in-law to the butcher (guess who's coming to dinner?). The film's cinematography is decidedly macabre, yet possesses a sort of zaniness to it much like a circus. I think that
Delicatessen
 is in fact a big circus of a film, what with the presence of a clown amongst the cast after all. It's been labelled as a dark comedy, something which I consider a circus to be.
   Still, It's not a film that I exactly loved. I felt at some points that it slowed down quite a bit. I also think the directors could have done much more with the fantastic material. Some characters should have been explored more thoroughly and some plots hung loose (such as the one where Julie catches Louison dancing with the butcher's lover and disappointedly storms off, only to have her return a few minutes later with the previous scenario completely abandoned). In the end, I liked the concept of
Delicatessen
 and some of its characters moreso than I liked the film as a whole.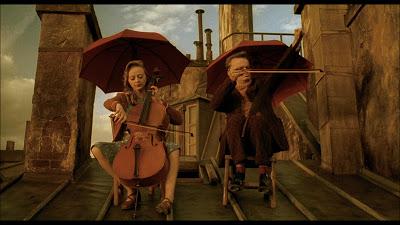 Ludovico Rating:




3/5. I would watch this again as I really liked the atmosphere of the film, but I don't expect it will grow on me.