From Amritsar we caught a final train to our last Indian city Delhi. Whilst we spent a lot of the time buying clothes (four under one-hundred dollars a whole formal outfit including suit, shirt and shoes can be purchased) and souvenirs, we did explore some of the main tourist attractions in Delhi.
Our hostel was in the touristy area of New Delhi, Paharganj; a very short walk from New Delhi train station. The location made it a very comfortable and enjoyable final few days, there was plenty to eat and buy only walking distance from the hostel.
As normal in any new city we visit, first exploration was by foot to nearby Chandni Chowk located in the Old Delhi area. We reached the Jama Masjid (Friday Mosque), the largest mosque in India. Having now visited a huge number of mosques, we were quite shocked at how poorly it followed Islamic etiquette, so shocked that I thought I would write about it in a separate post.
Around the mosque were huge bazaars selling Islamic clothing, food and general knick-knacks, plus the occasional chicken and goat.
Humayun's Tomb
A beautiful red sandstone tomb designed by a Persian architect. The tomb was set in a standard Charbagh (literally meaning four gardens) style garden with water dividing the grounds into four separate quadrants, similar to the Taj Mahal.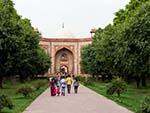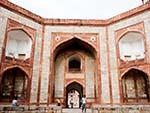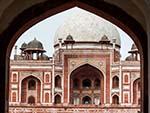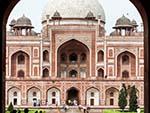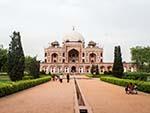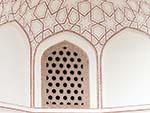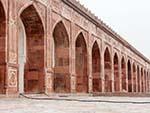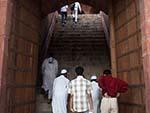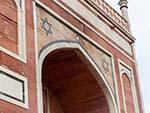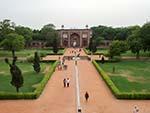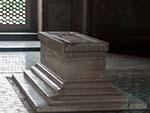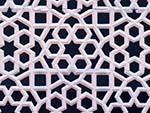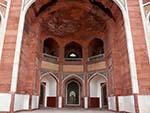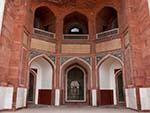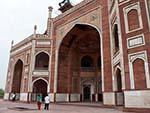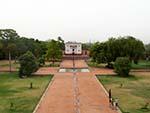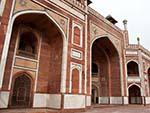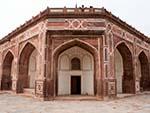 Red Fort
Our final site in Delhi was the Red Fort (or also named Lal Qila), named from the red sandstone used during construction.  The Red Fort had a grand entrance gate and high walls; inside featured the usual traits of Mughal palace complexes.