It can not be left quiet anymore - my hubby is a fabulous cook and I am so lucky to have him in my life! I wanted to shout it from the roof tops on Christmas Day but society does constrain one and the word 'mad' gets bandied about, hahaha.
It is a shameful thing to admit here on my allotment blog but, I did not go with Andrew to do our annual Christmas Eve harvest. It was cold and raining heavy and to be honest there were cute films on the TV and I was cuddling Toby - sorry but someone has to do it. Here are some of Andrew's pictures of that glorious moment....



Probably the most laughable harvest yet! The Kale was fabulous but the brussels had been attacked and we had about 3 tiny ones each and there were no carrots or parsnips - the shame. I think we're going to quit carrot growing, the disappointment every year is really too much and to be honest they are so cheap at all times of the year, it feels like it isn't worth it.

*

Now, I've just learnt (after publishing this post) that we DID have parsnips but the ground was too wet and claggy to dig them up!




*

That is unless YOU can tell me of a foolproof carrot variety that NEVER fails.
Our Christmas Day was joyously quiet and uneventful; we started off eating porridge with chocolate drops on top and drinking 'jingle fizz' ~ prosecco and cranberry juice. Ah, there's nothing better than a day were it's socially acceptable to eat chocolate for breakfast and (responsibly) drink alcohol all day.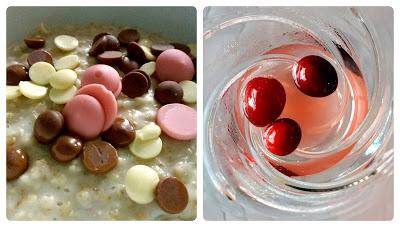 And here was the main event - check out those brussel sprouts, they were delicious and were eaten slowly and deliberately. Plus, I would love it to be known that I didn't eat all the food on that plate - Andrew was a little generous. We did eat all the left overs on Boxing Day though.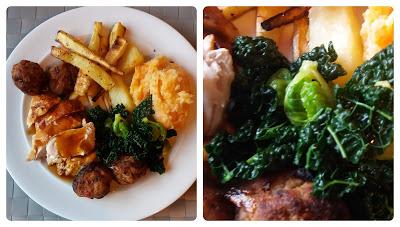 And on Boxing Day we went for a lovely walk in Carnfunnock Park, where Toby had his 1st walk ever; this time went a heck of a lot better. There's nothing finer than getting all wrapped up warm and burning off that Christmas Pudding in amongst the trees and meeting cheery fellow walkers (and their dogs). Also, Toby got to wear his festive jumper on the journey and a very sexy red coat on the walk itself. Truly a festive walk is a marvelous activity, particularly when you stop to make tea, find mushrooms, berries and enjoy another sunset.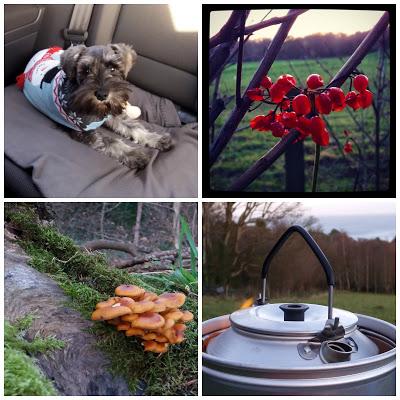 Today we went into Belfast which was a bit of a nightmare, so many people! Tomorrow we go for another hike in the middle of nowhere.. The allotment SHALL see us soon though, fear not.


******


Oh, and watch out for a New Year's GIVEAWAY - A copy of Sarah Raven's beautiful 'Cutting garden journal'. I'll only be able to afford UK postage but I hope you'll put your name in, there's every chance this hardback loveliness could be yours And some changes will be happening on the blog too, I need a change xxx
HugsCarrie
P.S. Tell me about your Christmas harvest and walks!