Online investigative journalist Scott King investigates the death of a pop megastar, the subject of multiple accusations of sexual abuse and murder before his untimely demise in a fire ... another episode of the startlingly original, award-winning Six Stories series.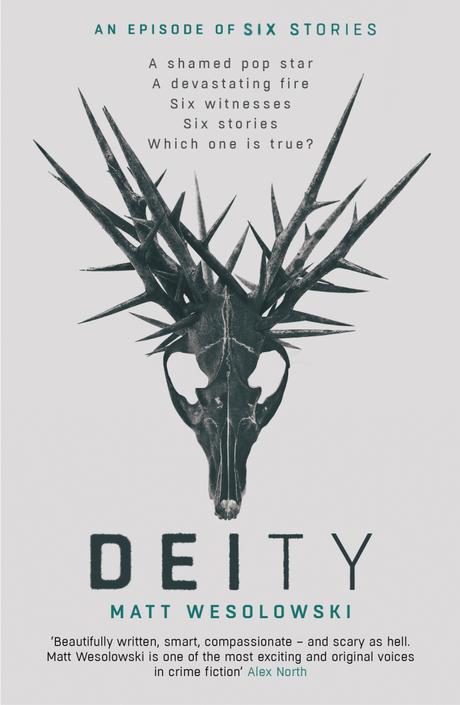 When pop megastar Zach Crystal dies in a fire at his remote mansion, his mysterious demise rips open the bitter divide between those who adored his music and his endless charity work, and those who viewed him as a despicable predator, who manipulated and abused young and vulnerable girls.
Online journalist Scott King, whose 'Six Stories' podcasts have become an internet sensation, investigates the accusations of sexual abuse and murder that were levelled at Crystal before he died. But as Scott begins to ask questions and rakes over old graves, some startling inconsistencies emerge: Was the fire at Crystal's remote home really an accident? Whose remains - still unidentified - were found in the ashes? Why was he never officially charged?
Dark, chillingly topical and deeply thought-provoking, Deity is both an explosive thriller and a startling look at how heroes can fall from grace and why we turn a blind eye to even the most heinous of crimes...
***
It's dark, almost pitch black save for a single light.
***
(@OrendaBooks, 18 December 2020, 315 pages, ebook, copy from the publisher and voluntarily reviewed, #BlogTour 28 February)
***
***
I listened to the audiobook for the first in the series, Six Stories and loved it but somehow didn't bother with the rest. What the hell was I thinking? I also have the audiobook for book two and three and after devouring this amazing book and falling to my knees in rapture I bought Beast on sale for 99p on Amazon so my next obsession will be reading / listening to the rest of the series while obsessively waiting for the next one. I fricking loved this book. It's an incredible piece of writing. I love the concept of six different POV's of a tragic event, in this case the apparent suicide of a rock legend and the accusations of sexual abuse that emerged soon after from some of his fans. This is a brave book in light of the #metoo movement and the author does an amazing job of writing about such contentious subject matter. I loved mixed of genres especially the hints that something supernatural may have lived in the woods around Zac's mansion. This is an incredible book.