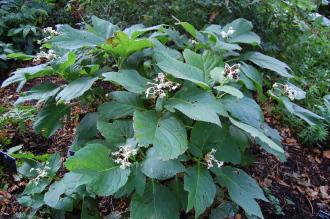 Deinanthe bifida (17/08/2014, Kew Gardens, London)
Position: Dappled shade to shade
Flowering period: Summer
Soil: Moist, well drained
Eventual Height: 50cm
Eventual Spread: 40cm
Hardiness: 4b, 5a, 5b, 6a, 6b, 7a, 7b, 8a, 8b, 9a
Family: Hydrangeaceae
Deinanthe bifida is a deciduous herbaceous perennial with a clump forming habit. Its mid green leathery leaves are elliptic with serrate margins, a two pointed leaf tip, up to 20cm long and 12cm broad. Its white flowers are bisexual and sterile and appear as terminal corymbs.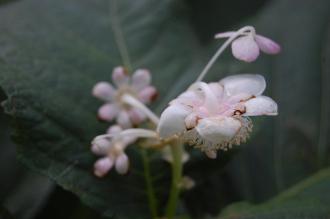 Deinanthe bifida Flower (17/08/2014, Kew Gardens, London)
Deinanthe bifida, commonly known as False Hydrangea or Two Lobed False Hydrangea, is native to Japan. In its native habitat it grows in cool alpine forests.
The etymological root of the binomial name Deinanthe is derived from the Greek deinos meaning 'extraordinary' and anthos meaning 'flower'. Bifida is derived from the Latin meaning 'split in two'.
The landscape architect may find Deinanthe bifida useful as part of a woodland planting scheme.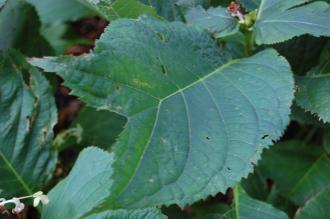 Deinanthe bifida Leaf (17/08/2014, Kew Gardens, London)
Ecologically, Deinanthe bifida flowers are attractive to some pollinating insects.
Deinanthe bifida prefers moist, fertile, humus rich, well-drained soils. It tolerates most pH of soil. It dislikes dry soils.
Deinanthe bifida requires little maintenance.