I received this book for free from NetGalley in exchange for an honest review. This does not affect my opinion of the book or the content of my review.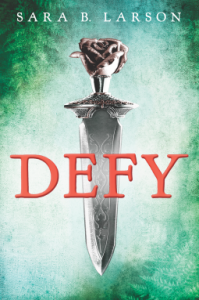 Defy
by Sara B. Larson
Series:
Defy #1
Published by
Scholastic Press on January 7th 2014
Genres:
Fantasy, Fiction, juvenile
Pages:
336
Format:
eBook
Source:
NetGalley
Goodreads

A lush and gorgeously written debut, packed with action, intrigue, and a thrilling love triangle.
Alexa Hollen is a fighter. Forced to disguise herself as a boy and serve in the king's army, Alex uses her quick wit and fierce sword-fighting skills to earn a spot on the elite prince's guard. But when a powerful sorcerer sneaks into the palace in the dead of night, even Alex, who is virtually unbeatable, can't prevent him from abducting her, her fellow guard and friend Rylan, and Prince Damian, taking them through the treacherous wilds of the jungle and deep into enemy territory.
The longer Alex is held captive with both Rylan and the prince, the more she realizes that she is not the only one who has been keeping dangerous secrets. And suddenly, after her own secret is revealed, Alex finds herself confronted with two men vying for her heart: the safe and steady Rylan, who has always cared for her, and the dark, intriguing Damian. With hidden foes lurking around every corner, is Alex strong enough to save herself and the kingdom she's sworn to protect?
I really enjoyed this story.  Alexa having to hide as Alex to protect herself and Prince Damian having to hide his true self to protect himself, have way more in common than you might think. Both of these characters are likable and you feel for them and what they have gone through in their lives. In fact they have gone through a lot of the same experiences, and have no idea that is the case. Both Alexa and Damian grow to care for each other over time and theirs is a bitter sweet romance, because for them to be together as a true couple would be very difficult. Their romance though is almost a back story in this book though. Because they need to save Damians' Kingdom from his father first, and that is not an easy task to complete when you really don't know who you can trust. The story is fast moving and the secrets and information is revealed like an onion being peeled back layer by layer. This is because both Alexa and Damian both have secrets that can be deadly and trust is not something they do easily. Which makes this a story that captures your attention and keeps you reading to see what the truth really is and exactly who Damian and Alexa really are.
  <><><""""><><""""><><""""><><><""""""><><><><""""><>0  Name: Email: We respect your email privacyEmail Marketing by AWeber 

Signing you up!
Never Miss out on a post again!!!


Sign Me Up!


We hate spam just as much as you

Signing you up!
Never Miss out on a post again!!!

Sign Up Via Facebook!


We hate spam just as much as you

Signing you up!
Never Miss out on a post again!!!

Click Here for One Click Sign Up!



We hate spam just as much as you