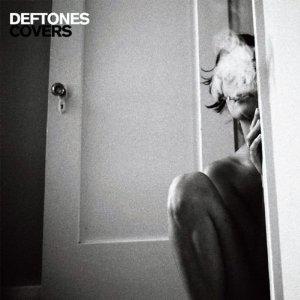 Ahh!!
Deftones
!! My favorite band in the whole wide musically diverse World.
Deftones
have been my favorite band since I was in high school. High School was many years ago, almost 10 years ago to be exact. To me they can do no wrong…except maybe an album with just cover songs. Hey I love covers but they usually are not done well…this is not the case with
Deftones
Covers
.
Deftone
s put their spin on 11 classic and underground gems from years gone by.
The opening track to
Covers
is well, a cover song of 
The Cars
"Drive". Chino Moreno's vocals add a certain something to this already awesome song. Instrumentally the song sounds just as it did oh those may years ago with an added electronic vibe from their resident DJ. Chino's already emotional take on vocals make you want to feel for him as he pours his heart out to the one that got away.
Covers also contains "Please, Please, Please Let Me Get What I Want" originally done by another one of my favorite bands
The Smiths
. Throughout the years Chino and the rest of
Deftones
have stated that they were heavily influenced by 80's pop and goth, namely
The Smiths
and
The Cure
. "Please, Please, Please Let Me Get What I Want" is done perfectly. Again with the aid of Moreno's unique vocal style make this song new again.
Covers also contains tracks originally done by
Sade, Duran Duran, Japan
, and
Lynard Skynard
to name a few. My favorite cover is
Jawbox's
"Savory". A down tempo, gloomy , alternative jam. Deftones pay homage to
Jawbox's
post punk stylings and will hopefully open them up to a new audience.
Overall,
Covers
is solid. Songs that inspired and shaped who the
Deftone
s are.
Upon writing this review I wanted to note that bassist Chi Cheng is still in a coma after his accident back in November or 2008. Godspeed Chi!
Covers
was originally released on Record Store Day 2011...which makes it a little hard to find, as it was a vinyl only release. However the album is easily found as a digital download…hunt and you will find it. Half of the covers were previously released as B-Sides on the
Deftones
album,
B-Sides and Rarities
.
-Cicatriz