Kaberle with Habs top defensive-zone passing success-rate
A successful first pass in the defensive-zone is a key aspect to any defensive-zone start or defensive-zone transition. We always hear about defensemen's ability to make that solid first pass. Below is a visual representation of the defensive-zone passing success-rate of every defenseman who has played for the Montreal Canadiens this season.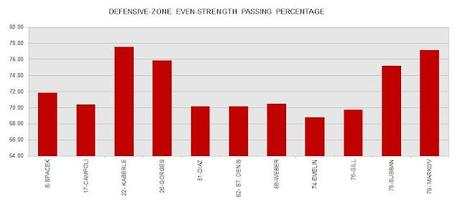 Andrei Markov has played far fewer games than any of the other defensemen. As such, his success-rate should be viewed as an early representation of his passing ability coming out of the defensive-zone, and not the likely long-term result. That said, Markov's d-zone passing-percentage has improved with each passing game.
Tomas Kaberle has the top defensive-zone passing-percentage among Habs defensemen. As much as Kaberle has been raked over the coals for his defensive-play, his ability to move the puck up ice quickly and efficiently is undeniable. Much of Kaberle's high defensive-zone risk/reward rating and ratio are the product of his passing ability.
Josh Gorges has the third-best d-zone passing success-rate among Habs d-men. Gorges' high success-rate combined with his willingness and ability to win puck-races, puck-battles, and block shots have allowed Gorges to produce the top defensive-zone ratio among Habs defensemen.
PK Subban has the fourth-best d-zone passing-percentage, and has consistently improved his  success-rate this season. Subban recently completed an incredible 31 defensive-zone passes in one game, and has completed 1175 total d-zone passes this season; 300 more than his nearest rival, Gorges.
Chris Campoli and Yannick Weber are fifth and sixth, respectively, and have similar defensive-zone passing-percentages. While Frederick St. Denis and Raphael Diaz come in seventh and eighth. Alexei Emelin has the lowest defensive-zone passing-percentage among all Habs d-men. An improvement in this aspect of his play would go a long way toward forcing himself into the Habs top-4 next season; particularly if he continues developing his shot-blocking, while also maintaining his physical play.
Tracking defensive-zone passing-percentages is the only way to quantify defensemen's ability to make a solid first-pass.