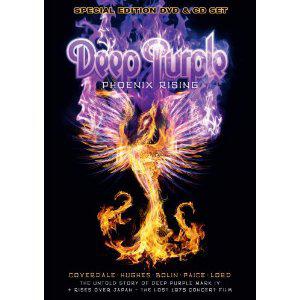 It's too bad this country is so damn big. My first viewing of this should have been with Racer and Pope since one of the reasons I started Rippling is because those clowns love
Tommy Bolin
-era
Deep Purple
even more than I do. But it's a long way from Brooklyn to California so I had to settle for the next best thing. My friend Vinny lives three blocks away and has a huge TV and also loves
Deep Purple
. It's a hell of a lot easier to walk over there with a 12 pack of Bud talls then to deal with airport security to go space truckin to the west coast.
Phoenix Rising
is a DVD/CD documenting the polarizing
Deep Purple
Mk.IV era. You either love
Come Taste The Band
or you think it's heresy. I resisted for a long time but finally succumbed to its powers a few years back though I do tend to agree with a statement that Jon Lord makes that it's a great rock album but not necessarily a
Deep Purple
album. Even if you're not a fan you'll find most of the documentary pretty interesting. Glenn Hughes was the driving force behind the band at this point, as well as the drug abuse, and he does a lot of the talking. Jon Lord provides more of a voice of reason behind the madness. Ian Paice is represented through an archival interview from 1976 and there are some interview clips with Bolin as well. David Coverdale was probably too busy counting his money or shampooing his hair to have been involved in any recent commentary on this part of his career.
One thing that the 80 minute documentary makes very clear is that
Deep Purple
was HUUUGE in the 1970's. Millions of album sold, arena tours, private jets, mega egos and tons of drugs.
Deep Purple
was always more of a drinking band but Glenn Hughes had a major cocaine habit and Tommy Bolin was deeply involved in heroin. The fact that they made a great album and Glenn is still alive is truly astounding. Among the fun facts revealed is that Glenn was sent home from Munich when they were recording because his drug use was so out of control. He says that back then the treatment was large doses of valium. To add intrigue to the story, there's an incident that took place in Jakarta that resulted in the death of a roadie. Glenn is adamant it was murder, though there's a disclaimer at the end saying that Coverdale does not agree with this statement. By the time the band reached Japan things were really starting to unravel. Tommy Bolin arrived with his left hand basically useless. The story is that he fell asleep on his hand on a weird angle and woke up unable to play. Whatever the truth is it's pretty certain that drugs were involved. The band was planning on a triumphant return to Japan and had to work extra hard to pick up the slack to cover for Bolin. Mk.IV ended on kind of a funny note. While on tour in Europe, after the last show Lord and Paice decided to break up the band. Right after they made the decision, Coverdale entered their dressing room to tell them he was quitting. Sadly, not long after Tommy Bolin overdosed ending a career that had a long way to go. Personally, I found the entire thing interesting but I'm a freak. It's probably about 20 minutes too long and really could have used some other perspective, especially from Coverdale.
The live footage from Japan has been around for years but never in this good quality. All 5 songs from the original VHS are here with excellent fidelity. This was filmed during the final concert at Budokan Hall and it's obvious that Bolin is sub-par but still pretty damn good. Jon Lord works really hard at picking up the slack and his playing is incredible. The rhythm section of Hughes and Paice is unbelievably tight and Coverdale's vocals are spot on. What a killer band. There's a kick ass version of "Burn" and great versions of "Love Child" and "You Keep On Moving" from Come Taste The Band. Mk.II standards "Smoke On the Water" and "Highway Star" get played but the jams are lengthy and self indulgent. And who allowed Glenn sing "Georgia On My Mind" in the middle of "Smoke On The Water?"
There's also a 70 minute live CD made up from recordings from Japan and a much better concert in Long Beach, California. You get audio of the five songs from the DVD (though "Burn" is from Long Beach) plus "Getting' Tighter," "Lazy," "Stormbringer" and "Homeward Strut" from Bolin's Teaser album. And if that wasn't enough, there are two fat, full color booklets. One contains a band history of DP Mk.IV with lots of photos and vintage press clippings. The other booklet is a reproduction of a 28 page Deep Purple magazine produced in 1976 with articles and interviews with Mk.IV as well as Blackmore, Ian Gillan and Roger Glover. You even get interviews with managers, booking agents and roadies. The packaging is great and even if you don't watch the movie part of it more than once, this is a great value.
 --Woody
Buy here: 
Phoenix Rising [DVD/CD Combo]
Buy here:
Phoenix Rising [Blu-ray]