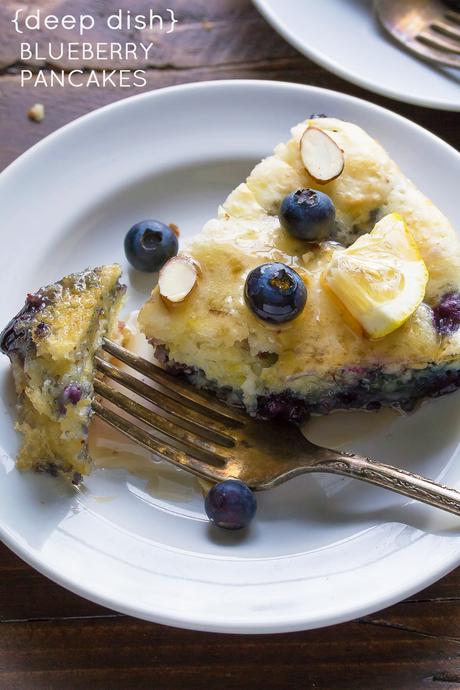 Bake up a single deep-dish blueberry almond pancake for an easy, hands off breakfast!  Adapted from the popular Extra Fluffy Blueberry Almond Pancakes recipe.
Hi friends!  Here I am, late on a Tuesday, sharing pancakes with you.  HaveILostIt??
Nope.  I seriously just shot these today (and shared behind the scenes on Snapchat, @sweetpeasaffron if you want to take a look!)  They are so good I couldn't wait to share them with you!
And these aren't just any pancakes.  These are adapted from my Extra Fluffy Blueberry Almond Pancakes, which has ended up being one of the most popular recipes on my site.  Which is funny, because when I posted them, I thought they were 'too boring'.  I guess I underestimated the love for blueberries + pancakes.  And fluffiness

Well, in thinking of ways to revisit this post, I considered the fact that some people (ie: ME) aren't great at cooking pancakes.  It takes patience, the perfect amount of liquid, you have to set the timer 1000 times.  PLUS.  Some of us have other priorities in the morning (translation: COFFEE).
So what if we just threw all of the pancake batter into a skillet and baked it up?
Continue reading: Deep Dish Blueberry Almond Pancakes