Hello everyone,
It's another perfect fall day here, sunny and mild! I've been running errands, but at least I've been outdoors, enjoying the colorful array of leaves on the trees. They are almost at their peak right now.
Today's post is about the jewel tone colors: topaz, amethyst, emerald green, sapphire and ruby. These colors are named after the tones of precious gems that they resemble. To appreciate how these intense colors will work in your home decor, just take a look outside and you'll see them on display on the trees. Fall is the time when jewel tones are in abundance. Because the colors are so intense, they tend to make less vibrant colors seem dull and boring. That is why it is always best to match them up with equally as intense tones. You can also pair them up with black, white, brown gray or other neutrals.
Most people would not use jewel tone colors in their home decor as a paint color, as they require good lighting and large spaces (unless you're using them on accent pieces). However, they do have one nice advantage: they can help play up a room's best qualities while minimizing its flaws. Walls painted with jewel tones add to a room's ambiance. They can make a large room seem more intimate and inviting, and they enhance the coziness of a small space by emphasizing the richness of the color. When painting a room with jewel tones, it's best to keep your accessories and objects d'art unified with the same color intensity.
The color topaz can be exotic. I am reminded of a peacock with its shades of deep blue, green, chartreuse, gold, and amethyst.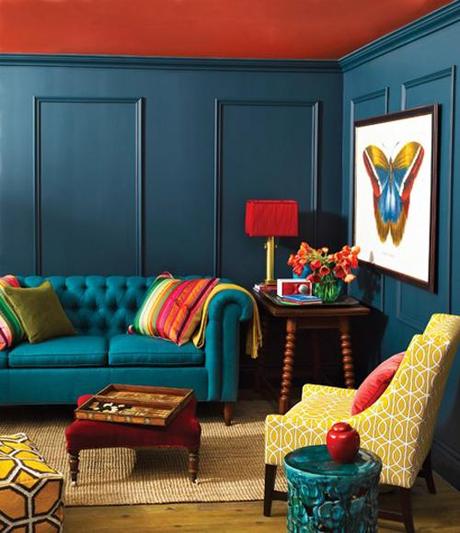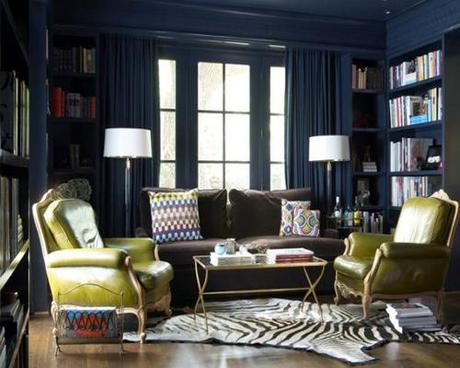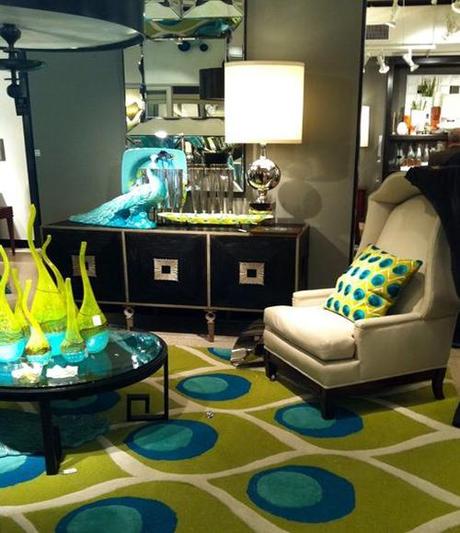 Amethyst, a member of the purple family, is most often associated with ceremonial affairs and, of course, it's considered the color of nobility. It's known also to be an overpowering color. For a very stately and regal look in your home decor, pair it with gold accessories and with dark wood furnishings, floors, and moldings.
If you don't want to paint your room in such a vivid color, consider lavender instead, with deep purple accents to enhance the space.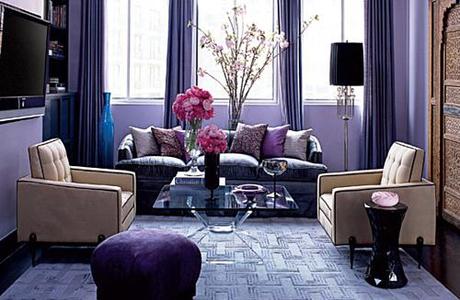 Or golden yellow accents! What a beautiful use of color in this room, it just enriches the amethyst so spectacularly. Great texture too. Love it!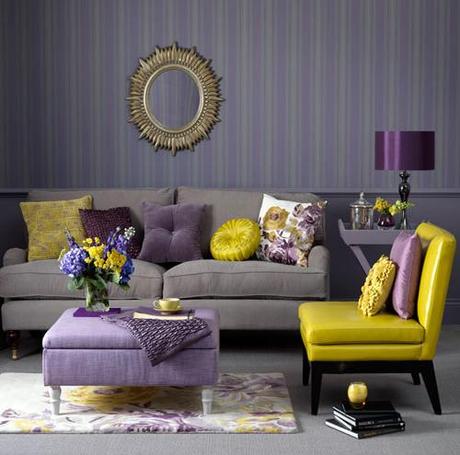 Doesn't this remind you of fall? Love that blue sofa and tufted ottoman!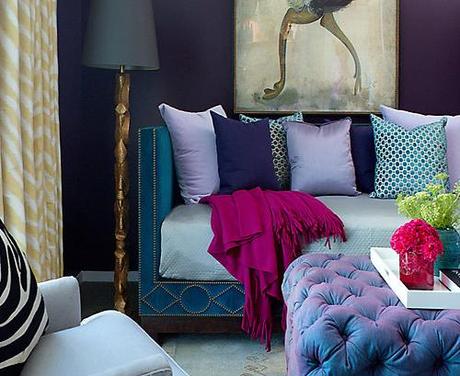 Emerald green. To tone down this intense color, trying layering it with colors like browns and whites, this creates a space that is warm, inviting and toasty room.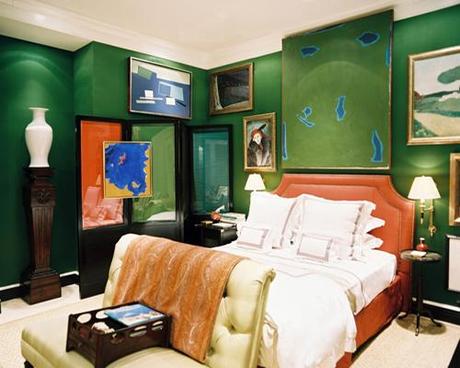 This room reminds me of flavors of sorbet. That pink adds such a pop of color to this room. Fabulous!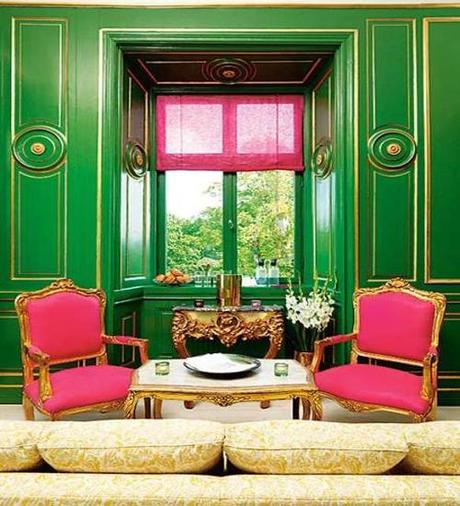 The black-and-white mirror frame and rug provide totally unexpected color and texture in an emerald green decorated room. It adds such dramatic flair, don't you think?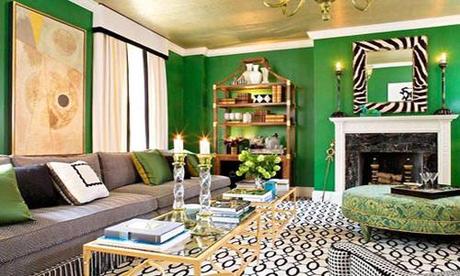 Sapphire is known for its calm and peaceful qualities. This color, which is between a royal and navy blue, is best described as a vibrant, saturated blue. Spaces decorated in sapphire are bold, dramatic and totally unexpected.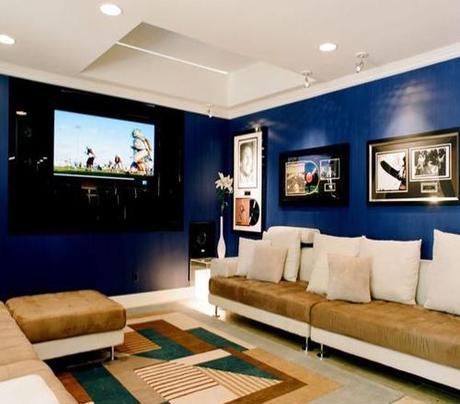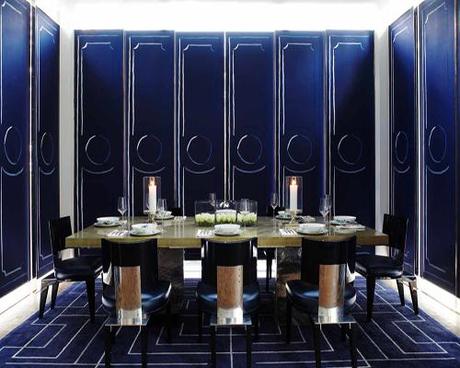 This color combination reminds me of a nautical theme.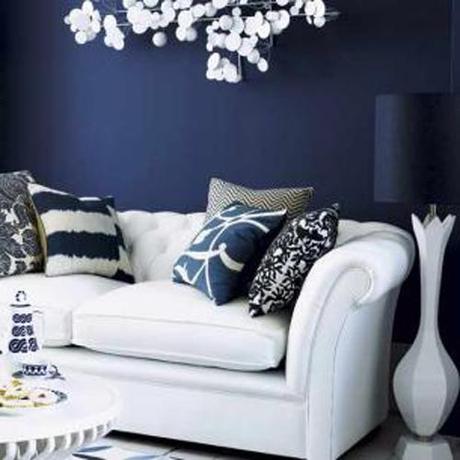 Finally, we come to the dynamic, energizing ruby red! This color is bright, exciting, and extremely eye-catching.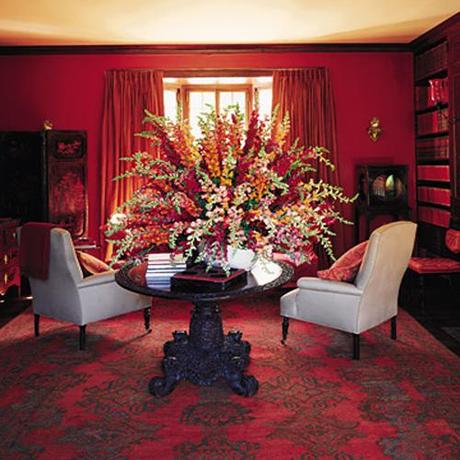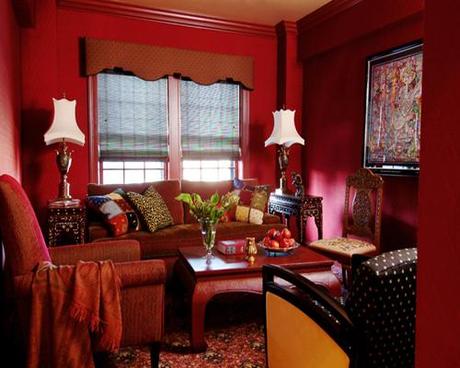 I love how this kitchen is toned down with the use of white paint in trim and wainscoting. It's so unexpected to see the color blue in the lamps. It provides a nice contrast to the ruby red decor.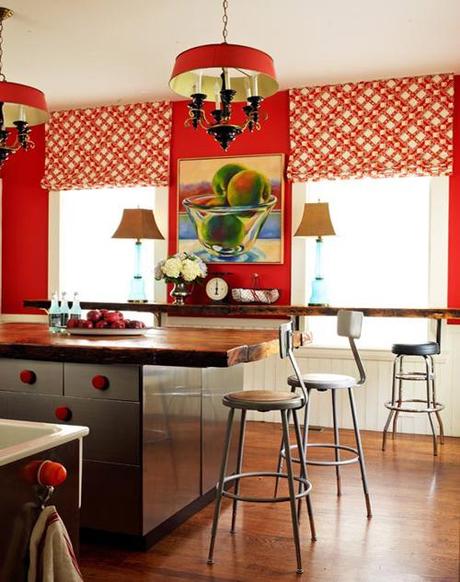 These color shades of precious stones can inspire you to take your home decor up to a richer and bolder level. It's all depends on whether you choose to paint the walls or would prefer to use the color in accent pieces or furnishings. Of course, another important element is good lighting.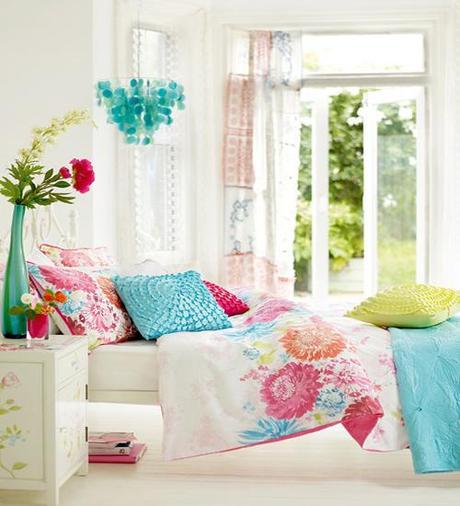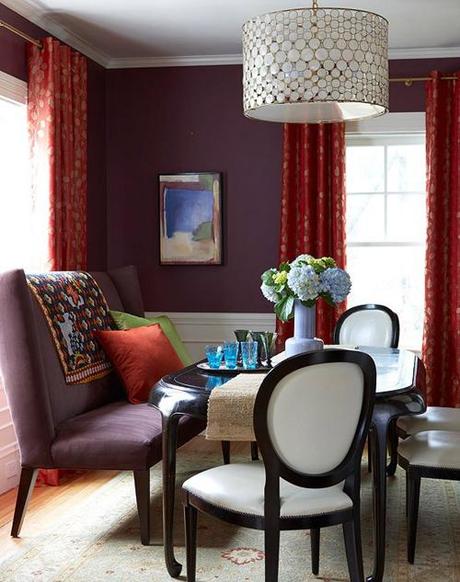 As you can see, when you choose to decorate with jewel tone colors it can be quite a challenge. However, with the right use of color pairings, accessories and furnishings, the end result can be a room that's a work of art.
What about you? Are you inspired to decorate your home using one of these jewel toned colors? Or do already have a jewel toned room?
Have a great day and remember that there's only one more day before the weekend starts!
Simone