Home décor elements may be thought of as art, whether they are wallpaper, furniture or accent pieces. There are lots of sources of inspiration for home décor designs, such as nature, other pieces of artwork, and popular trends. One of the latest trends in home décor is the use of metallic finishes (aka metallics), such as gold, silver and brass. These metallic finishes, when used with modern design elements, provide a feeling of luxury and glamor and bring a room to life in new, awe-inspiring ways. These design elements can be as varied as any other piece of home décor.
Jewelry is another source of inspiration home décor elements. I know that I've often thought about how nice it would be if some of my favorite pieces could be showcased in my home. Fine jewelry often captures light in a special way that adds a touch of glamor to your outfit. Your home décor can also do this. When placed in the right lighting, metallic finishes and crystal pieces add a special touch to a room, adding sparkle to catch the eye. Fixtures made of metallics have an appeal to homeowners who desire a very modern look to their home design. These pieces can accent a room without overwhelming when you blend them with soft, neutral colors.
Some jewelry designs resemble lighting fixtures like chandeliers and pendants.  As trends in home décor evolve, the use of lighting fixtures is popping up in unexpected places and in a variety of colors. The introduction of metallic finishes in luxurious fabrics is (to give a fashion analogy) like adding a beautiful accessory to your otherwise perfect outfit. By adding metallic finishes to a room, you draw interest and intrigue as well as a touch of bling.
I have two friends from Peru that specialize in sterling silver hand-crafted jewelry that they design themselves. I'm a proud owner of a few pieces of their jewelry. They have an online store and I've been looking through some of the new pieces in their collections. In looking at their pieces, I can't help but be reminded of the latest metallic trend designs I've been reading about. So I thought about pairing them to showcase how the designs of their pieces can also be used in home accessories.
I have put together some of my favorite jewelry pieces and paired them with home decor accessories that, I think, complement each other perfectly.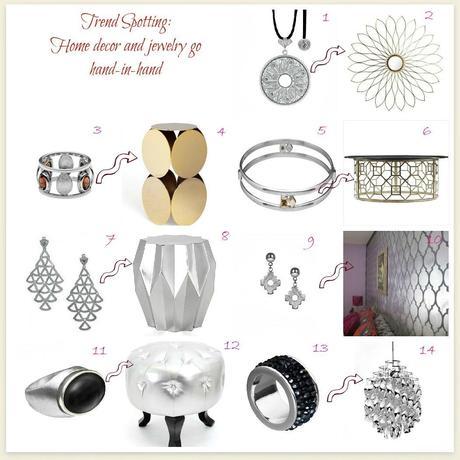 Image Sources: 1; 2; 3; 4; 5; 6; 7; 8; 9; 10; 11; 12; 13; 14
I think these pieces are matches made in design heaven. Both the jewelry and the home decorating accessories are so beautiful! The jewelry pieces would make wonderful additions to your wardrobe and the home accessories would be lovely in any room in your home.
Simone