Hello everyone,
The weekend is here! I hope you all have recovered from both Hurricane Sandy and Halloween. I bet the kids are still on a sugar high from all that candy.
Every season the fashion world debuts its new collections and trends. Each collection has its own color scheme and style. The same can be said of interior design trends. Trends are cyclical; a look that is trendy one year may become trendy yet again in a few more years. There is one trend, however, that stands up to the test of time: Art Deco. It's a design style that's been enjoying resurgence in popularity in recent years. You can find it in many aspects of design, from interior design to fashion design. The phrase Art Deco has its origins from the 1925 Exposition Internationale des Arts Decoratifs et Industriels Modernes, which was held in Paris in 1925. The name Art Deco, however, was not coined until after the 1960s. It's a style that's often referred to as the 1925 Style. It's a design style that's easily recognized in architecture and paintings by its distinct geometric shapes and intense bright colors. Art Deco features sharp angles and geometrically precise lines and is very often finished with bold colors and playful touches. It blends traditional architecture with the modern and features sleek curvature of decorative elements.
Materials that are commonly associated with Art Deco are aluminum, inlaid wood (found mostly in floors and furniture), lacquer finishes, stainless steel and zebra skin. Typical design elements are zig zag patterns, sunburst shapes and sweeping curves and lines.
If you're considering incorporating the Art Deco design style in your home, here are some decorating tips you should be aware of.
Color. Include neutrals in your color scheme, such as beige, tan, taupe, grey, black and, of course, white. Bolder colors such as green, red, maroon, yellow and gold should be muted and used very sparingly.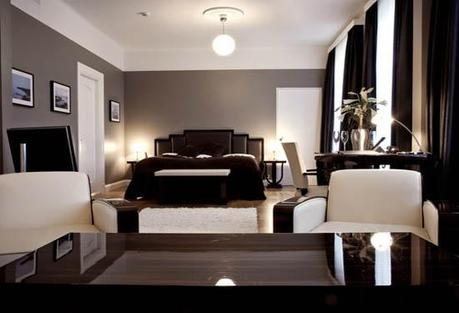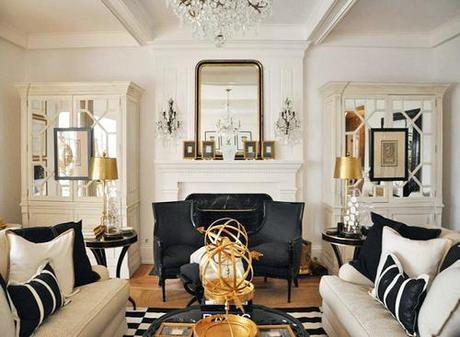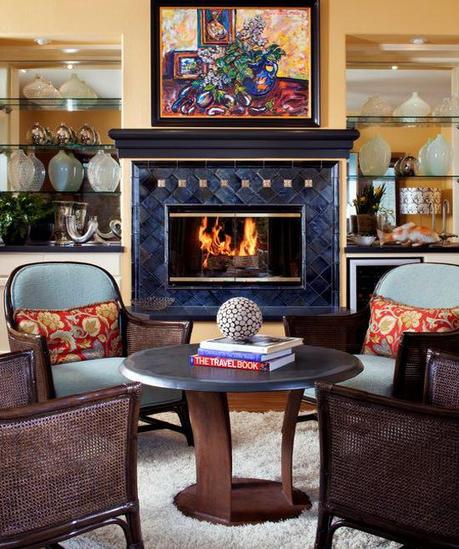 Flooring. When deciding on flooring, think of sleek materials and colors, such as black-and-white checkered tiles or marble or glossy hardwood floors. An area rug with geometric designs or zebra print is an ideal accessory to complete the Art Deco look.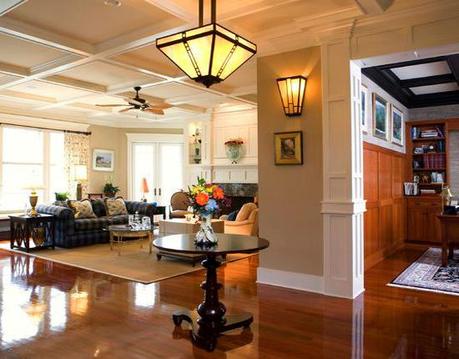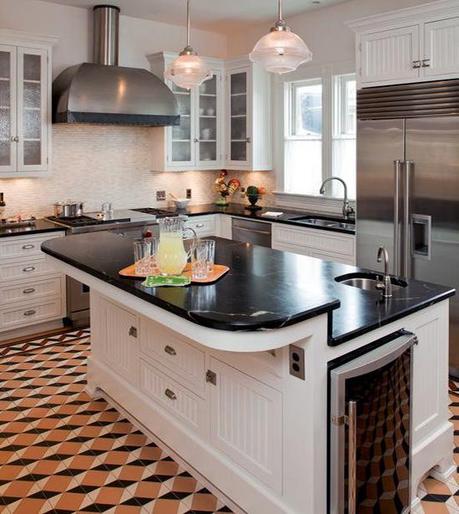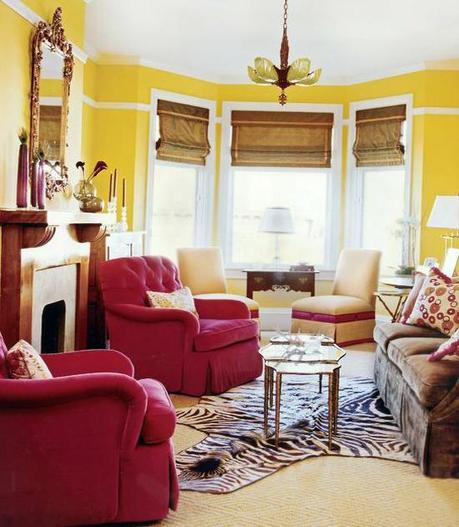 Furniture. Art Deco furniture has a sleek, lacquered finish yet has elegant curves which are both glamorous and comfortable. The wood furniture is typically made from rosewood, walnut, maple, teak or zebra wood. Other finishes include chrome, stainless steel, glass and vinyl. For cushions, use fabrics that are leather or exotic zebra print. Large scale furniture pieces such as armoires, sideboards and oversized chairs and sofas fit very comfortably in this design style.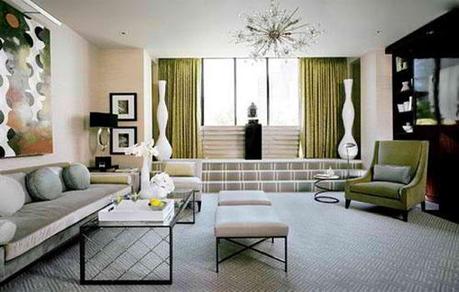 Via: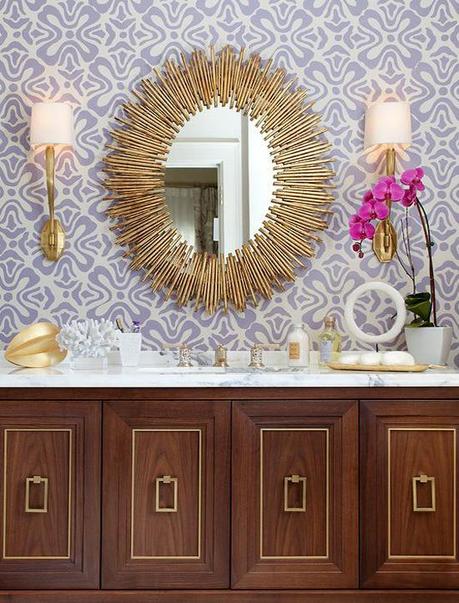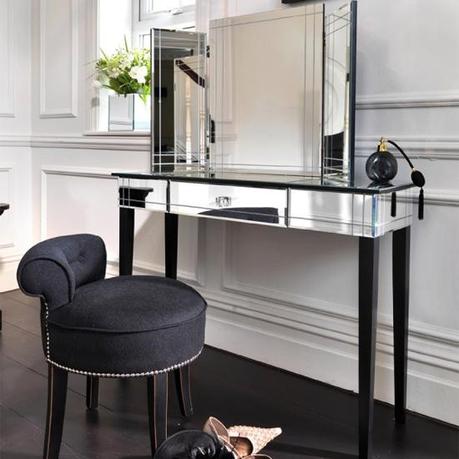 Lighting. In Art Deco your decorative possibilities are endless: ultra-modern, zig-zag and geometric designs are used for ceiling fixtures, wall sconces, table lamps and floor lamps. For your lamps, look for bases have a brass, nickel, bronze, aluminum, wrought iron, ceramic or chrome finish, and for glass shades in white, clear, frosted, etched or colored.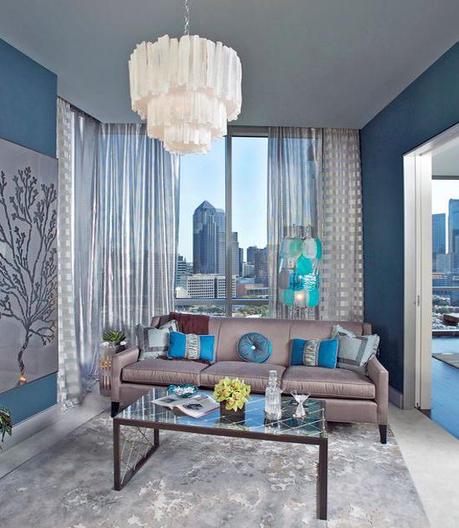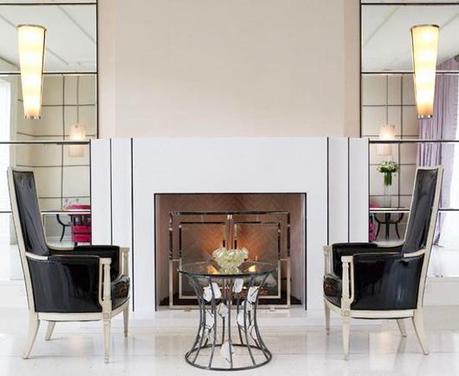 Via: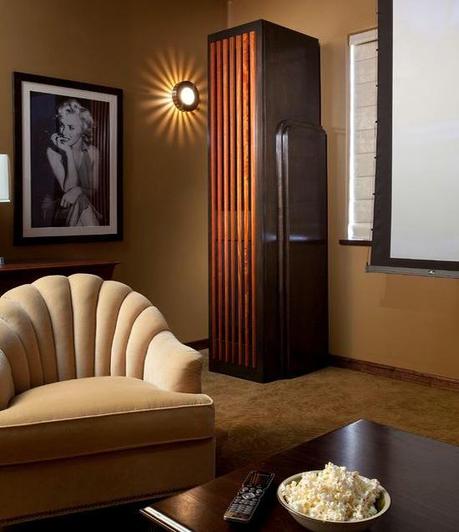 Accessories. Decorative accessories such as geometric mirrors with shiny silver or chrome frames go well in an Art Deco room. Include vintage clocks, radios and, of course, vintage posters.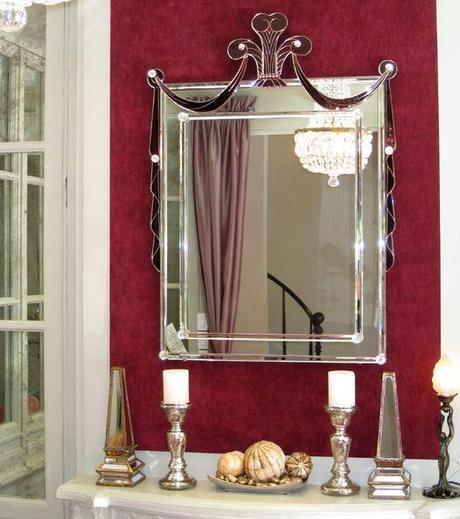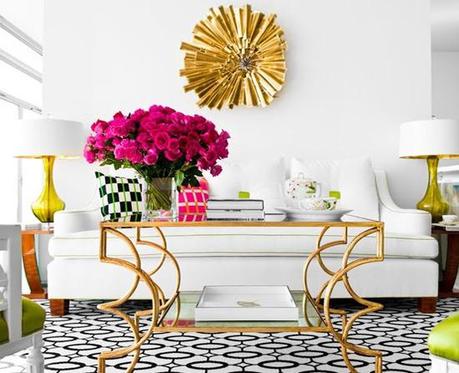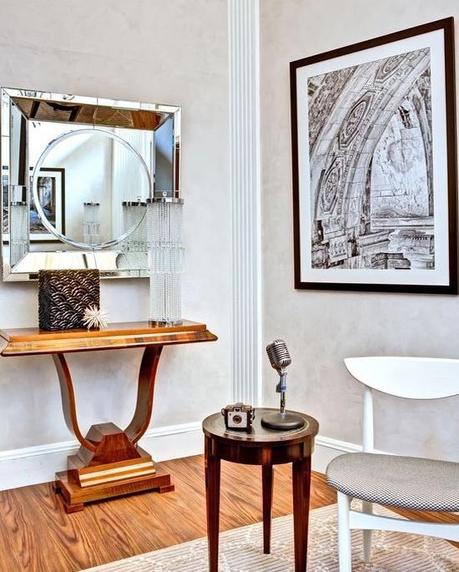 Finally, for an elegant floral display, mix feathers (such as peacock) with flowers.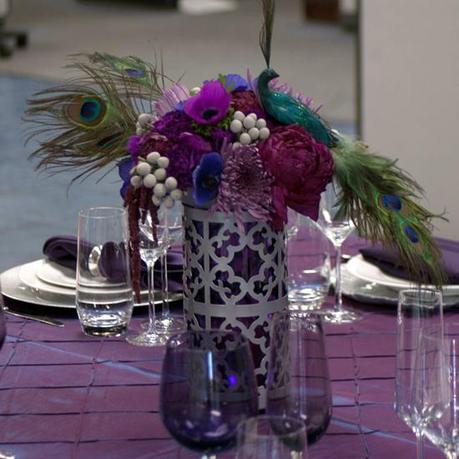 Wow! I can see why Art Deco enjoys such popularity! It's such a timeless look that can be updated over the years and still be beautiful and inspiring.
Have a nice weekend,
Simone