Hello everyone,
After writing about decorating with fall colors these past few weeks and looking at all those beautiful and inspiring images from other homes, I decided it was time for me to decorate my own. The very first place that got redone was the wall mantel in the foyer.  At a recent visit to an orchard, I bought some gourds of pumpkins in various sizes as well as some squash and corn. Afterwards I bought some scented pine cones and faux cattails from the grocery store. Armed with all these goodies, it was time to let the decorating begin!
My foyer mantel is small and so it only requires a minimal amount of decoration. Using too many pieces will overwhelm the mantel. The mantel can be seen from the outside through a nearby window. One of my favorite paintings, a pair of swans, hangs above the mantel. The background of the painting has a lot of the fall colors. I've placed three vases (with green and yellow colors) from Crate and Barrel on the mantel. In order to give the mantel a "real and natural" look, I let several faux leaves just drop on it, and wherever a leaf fell I put a miniature pumpkin on top. I clipped some dahlias and other flowers from my garden and placed them in the center vase (which is tallest of the three) and I put two cattails in each of other two.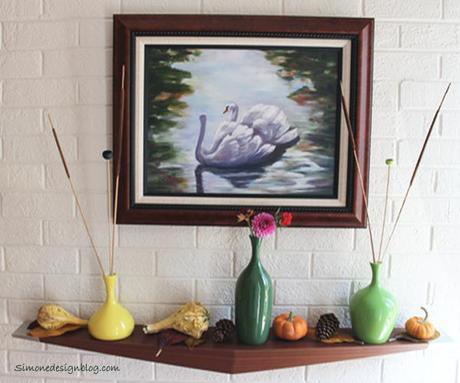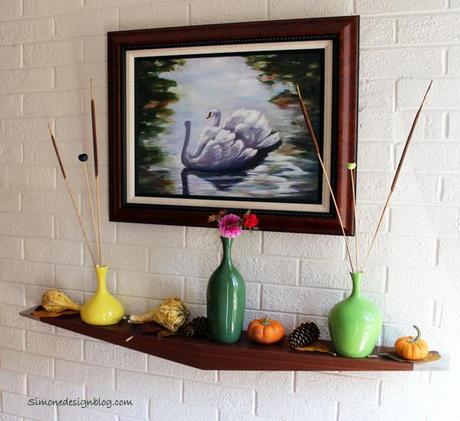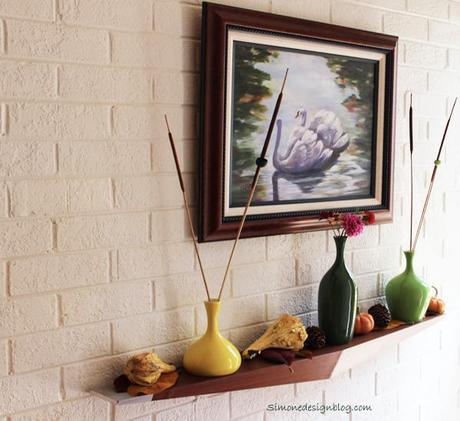 I love how this looks. Simplicity is definitely the way to go! The fall colors from the outside, as seen through the nearby window, blend wonderfully with the mantel colors.
This is inspiring me to decorate the rest of my home. I'm doing these decorations little by little, and  I'll share them with you when it's all completed.
Enjoy your day,
Simone