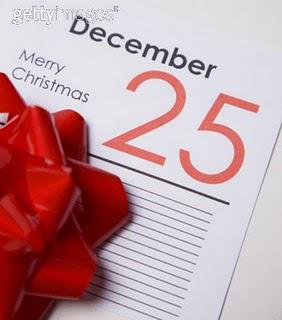 December, or december in Dutch, is the month that falls after november (November) and before januari (January). As you'll notice, the Dutch don't capitalize the months of the year. This also holds true for the days of the week (maandag, dinsdag, woensdag, donderdag, vrijdag, zaterdag, and zondag).
Here is a list of what's going on in the Netherlands in december 2010!
What's on in the Month of December?
Saturday 5 December: Pakjesavond- Gifts Night
Sunday 6 December: Sinterklaas
Tuesday 7 December: Princess Catharina-Amalia's birthday (2003)
Friday 10 - Sunday 12 December: Sounds of Mexico Festival
Tuesday 14 December: Gouda bij Kaarslight - Gouda by Candlelight
Saturday 18 - Sunday 19 December: Dickens Festival in Deventer
Wednesday 22 December: Winter officially begins
Saturday 25 December: Eerste Kerstdag - First Christmas Day
Saturday 25 December: Prince Bernhard's birthday (1969)
Sunday 26 December: Tweede Kerstdag - Second Christmas Day (Boxing Day)
Friday 31 December: New Year's Eve
For a listing of Christmas markets throughout the Netherlands, click here
I am extremely please to announce that expat writer/publisher/mentor/teacher extraodinaire Jo Parfitt will be guest posting on Clogs and Tulips this Friday (December 10). She will share her top ten tips for wannabe expat writers.
Also this month, I will be starting a Q&A (still coming up with a creative title... if you think of one, let me know). If you have a question on anything expat and/or Netherlands related, you can email them to me at [email protected]. Please indicate whether you would like to share your name, remain anonymous, or have one of those cute little aliases like on Dear Abby. They will then be shared (either first-come-first-serve or based on relevancy) on the blog, where I will answer to the best of my ability before opening the floor up to readers.
In non-expat related news, by newest book Mary's Holiday story is coming out later this month (like in the next week for so). I'm sharing sneak peeks and more at my writer's blog Putting Words to Paper, which is also new as of last week. And a shameless plug: we've just put our apartment up for sale and are looking to get rid of it sooner rather than later. So if you know of anyone who might be interested in an apartment in Utrecht, feel free to pass along our Funda page.
The latest poll - "During the holidays, we celebrate..." - is open and will be until midnight on January 1st. So far, we have 18 votes... keep 'em coming! There was no poll in November.
 Top Posts in November 2010
What is the Staatsexamen? - You've heard the term, but what does it mean? Is the test really as dreadful as people make it seem? Find out with this and other blog posts about the exam from the month of November
American Expats Can Still Celebrate Thanksgiving - Tips and suggestions on how to continue the American tradition of Thanksgiving when you are living overseas
Under A Watchful Eye in Utrecht - An art installation in Utrecht shows how video surveillance is going to the birds
6 Print Publications for Expats in the Netherlands - the top 6 print publications and why you should be reading them if you are an expat in the Netherlands