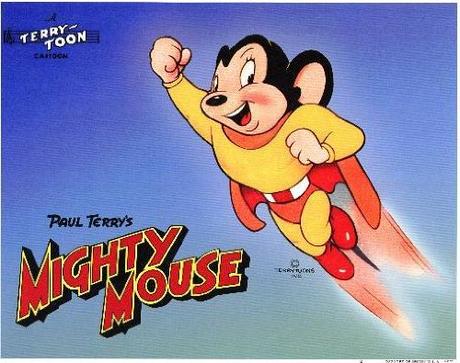 December 10th is...
The Mighty Mouse Playhouse
TV Premiere (1955), National Lager Day, Dewey Decimal System Day (1876), Human Right's Day (1948), Nobel Peace Prize Day (1901), Jane Addams Day (1931), Emily Dickinson's Birthday (1930), First Grand Ole Opry Broadcast (1927), International Animal Rights Day, Suspended Coffee Day, Festival for the Souls of Dead Whales, St. Eulalia's Day/Feast Day of Saint Eulalia of Merida
MORE (2nd Monday):
Green Monday
PLUS -
interesting books to read and free printables, paper crafts, kid crafts, activities, and coloring pages.
Want more Holidays to celebrate? Click for our Index of Holiday Freebies
---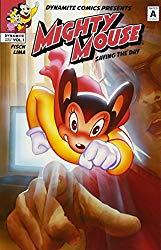 The Mighty Mouse Playhouse TV Premiere (1955)
-- Mighty Mouse is an American animated anthropomorphic, superhero mouse character created by the Terrytoons studio for 20th Century Fox. The character first appeared in 1942
(originally named Super Mouse)
and subsequently in 80 theatrical films between 1942 and 1961. These films appeared on American television from 1955 through 1967, Saturday mornings on the CBS television network.
Source
Read: Mighty Mouse: Saving The Day
-- You're the world's greatest hero, exiled to another dimension with no way back. Trapped in an alien world, where not even the laws of physics work the way they should. The only person who even believes you exist is a young kid whom no one will listen to. Yet, you are the shining light this drab, cynical world needs to restore its color and life. Oh -- and you are a cartoon mouse. Here comes Mighty Mouse to save the day, in his most unexpected adventure yet... right here, in the real world!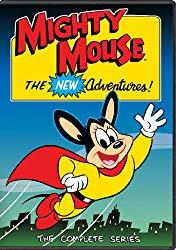 • Mighty Mouse: The New Adventures DVD --
In this revival of the classic Mighty Mouse cartoon, we follow the humorous, satirical adventures of Mike Mouse (a worker at Pearl Pureheart's factory) in this Saturday Morning cartoon by Ralph Bakshi. Mighty Mouse finds himself inserted into parodic takes on
The Flintstones
and
The Jetsons
,
Scooby-Doo!
, and
Rocky and Bullwinkle
(think Sylvester Stallone instead of flying squirrel)
. Mighty Mouse has cult classic drawn all over it. It
• Mighty Mouse Movie Poster --
Mighty Mouse Reproduction Poster Print Style A 11 x 14 Inches - 28cm x 36cm. Packaged with care and shipped in sturdy reinforced packing material
• Mighty Mouse Coloring Book
---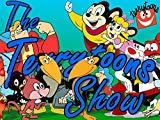 Amazon Freebies:
•
Watch Classic CartoonVideos for Free
with a
Free Trial of Amazon Prime
---
Free Printables, Coloring Pages, Activities and Crafts:
•
Mighty Mouse Quotes
•
Mighty Mouse Printable Jigsaw Puzzle
•
Mighty Mouse Colouring Page
•
How to Draw Mighty Mouse
•
Step by Step Drawing tutorial on How to Draw Mighty Mouse
•
Mighty Mouse Paper Toy
•
Mighty Mouse Collection: Free Download, Borrow, and Streaming
•
Mighty Mouse Cartoon Trivia Quiz Questions With Answers
• Mighty Mouse TV Episode List
• Mighty Mouse Original Story Board Art
---
National Lager Day
- To celebrate, head to your favorite pub and enjoy a refreshing brew of your favorite lager or try brewing your own! Lager yeast first emerged in the Holy Roman Empire due to a spontaneous mutation or hybridization effect. As a new variety of beer, it often had to be produced outside city walls because it faced opposition from the Catholic Church.
Dewey Decimal System Day (1876)
- The Dewey Decimal Classification
(DDC, also called the Dewey Decimal System)
is a proprietary system of library classification developed by Melvil Dewey
(born December 10, 1851)
in 1876; it has been greatly modified and expanded through 22 major revisions, the most recent in 2003. This system organizes books on library shelves in a specific and repeatable order making it easy to find any book and return it to its proper place. The system is used in 200,000 libraries in at least 135 countries.
Human Right's Day (1948)
- On December 10, 1948, the UN General Assembly adopted the Universal Declaration of Human Rights. Celebrated to promote the universal human right: to live and to do so peacefully. Some of the world's occupants have this right suppressed
[e.g. the right to equality]
. This day was declared to raise awareness of human rights and of those who are deprived of these rights.
Nobel Peace Prize Day (1901)
- The Chairman of the Norwegian Nobel Committee, currently Thorbjørn Jagland, presents the Nobel Peace Prize in the presence of the King of Norway on December 10 each year
(the anniversary of Nobel's death).
The Peace Prize is the only Nobel Prize not presented in Stockholm. The Nobel laureate receives a diploma, a medal and a document confirming the prize amount.
Emily Dickinson's Birthday (1930)
- One of America's greatest poets, Emily Dickinson was born at Amherst, MA on December 10, 1830. She was reclusive, mysterious and frail in health. Seven of her poems were published during her life, but after her death, her sister, Lavinia, discovered almost 2,000 more poems written on the backs of envelopes and other scraps of paper locked in her bureau. They were published gradually, over 50 years, beginning in 1890.
First Grand Ole Opry Broadcast (1927)
- Grand Ole Opry made its first radio broadcast from Nashville, TN on December 10, 1927.