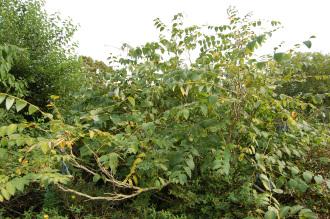 Decaisnea fargesii (28/09/2014, Kew Gardens, London)
Position: Full sun to partial shade
Flowering period: Late spring
Soil: Moist, well drained
Eventual Height: 7m
Eventual Spread: 7m
Hardiness: 5b, 6a, 6b, 7a, 7b, 8a, 8b, 9a
Family: Lardizabalaceae
Decaisnea fargesii is a deciduous large shrub or small tree with a spreading habit. Its mid green leaves are odd pinnate, have up to 25 leaflets, are up to 90cm long and 25cm broad. Its leaflets are elliptic with entire margins, up to 15cm long and 10cm broad. Its trunk may achieve a diameter of up to 20cm. Its monoecious yellow/ green flowers are up to 6cm across and appear as drooping panicles which are up to 50cm long. Its fruit is a green/ yellow pod which are up to 10cm long and 3cm broad, these mature to a blue black color and appear in autumn.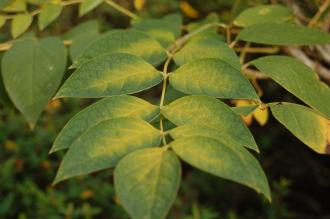 Decaisnea fargesii Leaf (28/09/2014, Kew Gardens, London)
Decaisnea fargesii, commonly known as Dead Man's Fingers, Blue Sausage Tree or Blue Bean Tree, is native to east Asia including China, Nepal and Burma. In its native habitat it grows in thickets and woodlands on mountain slopes and river banks.
The etymological root of the binomial name Decaisnea was named after Joseph Decaisne (1809–1882), a  French botanist. Fargesii is named after Pere Paul Guillaume Farges (1844-1912) who discovered this plant.
The landscape architect may find Decaisnea fargesii useful as a large shrub with ornamental fruit.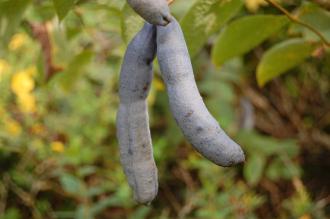 Decaisnea fargesii Pods (28/09/2014, Kew Gardens, London)
Ecologically, Decaisnea fargesii pulp from its fruit is eaten by some birds and mammals.
Decaisnea fargesii prefers moist, fertile, well-drained soils. It tolerates most pH of soil. It dislikes dry soils.
Decaisnea fargesii requires little maintenance.