The flashback scenes have always been a fan favorite, the costumes, the sets and a look inside the past of our beloved characters, sometimes happy but often sad. Especially heart wrenching was the flashback Bill had in episode 5.08 Somebody That I Used To Know, where he remembers visiting his daughter Sarah on her death bed. Personally I had tears in eyes watching how Sarah desperately wanted to cling to life and how Bill denied her that by letting life follow its natural course.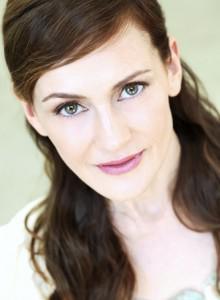 Deborah Puette is the actress who portrayed Sarah Compton. She is a native of Pittsburgh, but started her career on the stages of Chicago and made guest appearances on shows such as The Office, Grey's Anatomy and Criminal Minds.
Exclusively to The Vault/AllStephenMoyer Deborah Puette tells the story about her role of Sarah Compton, the preparations for the scene and working with Stephen Moyer.
I understand you are a huge Alan Ball fan. What was it like meeting him at your audition?
DP: I am a big fan of his work. I was surprised to see him at the audition. I'd had a very short time to get ready for the meeting, so my focus had been entirely on getting to my best work in the time I had. When I walked into the room and he was there, I was thrilled. I actually wrote a short essay on the audition because the experience was so singular and fun. (If fans want to read it, they can find it at my website which is www.deborahpuette.blogspot.com.) And of course, I'm indebted to the casting directors on the show for bringing me in to read for him in the first place. They do such a great job on that show—the guest cast each week is enormous.
How did you react when you heard you got the part?
DP: My manager called me about an hour after I got home from the audition. I was running out the door to get to another appointment, and when he told me I screamed. Loudly. I think I scared my neighbors.
Are you a fan of True Blood?
DP: I am. I love the way the show uses its unique world to comment on and illuminate the struggles in our own. The themes it takes on are universal, the stuff of myth. It's great escapism. Plus, it's gorgeous to look at—the production design, the costumes, all of it creates this world that is sometimes very recognizable and but sometimes so very "other."
Did you already know all about Bill's pain and struggle to understand your scene better or did you come in as a blank slate?
DP: If you mean did I understand the context for our scene, I did. Once you book the job, they generally give you the whole script. I'd been to the table read with the cast where we read it aloud, so I knew that Bill's flashback to Sarah's deathbed was a direct result of his struggle in the moment over whether to feed on the mother of a young child. But for my purposes as an actress, all I needed to focus on were the circumstances of our scene—my father showing up unchanged years after I believed he was dead, and the possibility that he might save me.
You go on set for a one day shoot and you have to play such an emotional and moving scene. How do you prepare for that?
DP: All sets are different in terms of their tone—the "True Blood" set was very warm and welcoming, so it was easy to feel safe and vulnerable which is important when doing an emotional scene like that. In terms of preparation, all actors are different. For me, it's all about the text, knowing the scene inside and out and understanding its place and function in the story. Then I just try to keep myself as open as I possibly can during the shoot. The emotion of it isn't something I can prepare, per se. I have to find that in the moment through the connection I feel to the other actor. In this case, it was easy to find because Stephen is so present and giving and open. That's not always the case! But knowing how to access that regardless, well, that's what actors continually work to develop with every class they take and every job they do.
How did you work on this scene together with Stephen?
DP: Because Stephen was also directing the episode, most of the day we dealt directly with each other. The writer and co-executive producer, Mark Hudis, was also there of course, watching each take on the monitors, and he would provide really helpful feedback and thoughts on the direction of the scene, which Stephen would then bring to me and we would incorporate. Normally, you'd have the director popping in to talk to you and your scene partner or one of you alone, but for me, the experience was very insular; between takes, Stephen and I could just stay there sitting on the bed talking about small adjustments to make on to the scene, what worked, what we might change a bit. Sometimes of course we just chatted about random things, too, our kids, stuff like that.
I believe this was the first episode of True Blood that Stephen directed, and I was surprised when I learned that. Stephen was nothing but generous and open and lovely during the entire process. It was as if he'd done it a million times before. I can't say enough good about the time I spent on that set.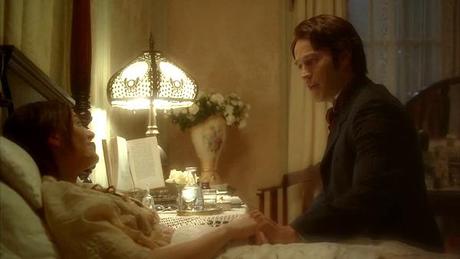 "Immortality is a curse" is the key of this scene, but does that apply to Sarah?
DP: Sarah's in such a dark place when we meet her in this scene, I think it's impossible for her to imagine that getting to live under any circumstances would be a curse. She's terrified of dying, she sees a possible way out, and yet her father denies her the chance because he loves her too much. As a parent myself, I thought the choice he had to make was heartbreaking.
It's pretty obvious that Bill said no to his daughter's request, but the scene ended before we saw her end of life.  Any ideas on what their last words were like?
DP: This is "True Blood," after all. If we didn't actually see her die, then who knows?
Do you think Sarah had any idea what has really happened to her father?
DP: In my mind, she figures it out in the scene. "Make me like you, then," is her telling him she understands. After all, she lives in a place where vampires exist, and how many other ways are there to remain immortal?
Any chance Sarah will be back for another flashback?
DP: That's a great question for the writers! I have no idea, but I would love it.
What can you tell about your costume?
DP: This is a really fun coincidence: the head costume designer, Audrey Fisher, and I first met and became friends when she costumed me for a play in Los Angeles called "Tryst" back in 2007. The play was set in Edwardian England, so while the place was different, the time period was similar to my scene for "True Blood"! It was wild to have her putting me in vintage clothing yet again. Most of my costume was covered by the bedclothes in the scene, but I wish people could have seen it head to toe. Audrey found this gorgeous, delicate nightgown and robe set that was so old it was just barely holding together in places. I had to be so careful wearing it! She does an amazing job on that show.