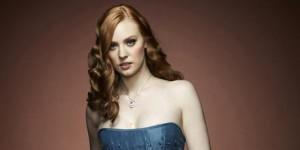 True Blood creator Alan Ball told us at the beginning of Season 4 that the theme would be identity and it seems that Jessica Hamby, played by Deborah Ann Woll, has really learned to embrace her identity this year.  In previous seasons we watched her and Hoyt fall in love despite their obvious differences but sadly this season we have also watched them fall apart.  Woll spoke recently with NZHerald.co.nz about Jessica's transformation, nudity and her upcoming movies and she tells them that this is only the beginning for Jessica.
Woll describes Jessica's story as a coming of age story saying she is transforming from a girl to a woman and also from human to vampire and says that Jessica is really struggling with her vampire side saying:
"She's closer to her humanity than a lot of the other vampires. I think some of that human guilt still lives within her and in that way, she hasn't completely given in to the vampire nature,"
One of the biggest changes for Jessica is her new-found sexuality.  Woll says that the nudity and sexual nature of the show do not bother her as long as it is for a reason and emphasizes that she sees a difference between nudity and pornography.  However she is more comfortable with nudity on the small screen than the big screen because she feels people can take it out of context and use the scenes in a way she never intended them to be used. 
Woll reveals that she has always wanted to act and describes home videos that she has of herself dressed up and putting on shows for her mother.  She is the first in her family to enter show business, with her mother being a teacher and her father and architect.  At the age of 14 she decided to change her hair color in an unusual way, going from blonde to red in order to stand out.  With being on a show that features the stars without clothes a good portion of the time you would think that all of the stars would spend an insane amount of time at the gym but Woll does not enjoy working out:
"I don't like to work out much, although I do enough to stay healthy.  But I would like to be able to play any kind of person, not just a person with a perfect physique. And also, I don't really have the patience to stay in a gym for six hours a day because looking attractive is not at the forefront of my mind. I've got other things I'd rather do. I got into acting for the art of it and if people decide that my body is not good enough to be on film, I'll go back to theater."
So what does Woll's family think of her role on such a racy television show?  She says her family is very supportive of her and reveals that her mother is a huge True Blood fan.  Her grandmother does not have quite the same appreciation for the show, but overall her family is behind her. 
Next up Woll talks about some of the projects she has on the go.  Her movie 'Seven Days In Utopia' hits theaters today, she will be appearing in 'Catch .44′ with Bruce Willis, followed by 'Little Murder' with Josh Lucas and 'Highland Park', all hitting theaters in 2011.  She reveals that she just finished shooting a movie entitled 'He Loves Me' with Antonio Banderas and she says that movie is a very unusual love story and she thinks it will really have an impact on people.
Woll also teases about the cliffhanger in the season finale of True Blood saying:
"We don't get the script very far in advance of shooting it. I find myself always wondering what's going to happen. Right now it's tough, because I know the rest of this season, but now I'm waiting for season five.  I'm on the same cliffhanger that you'll find yourself in a couple of weeks."
Sadly we will be seeing that cliffhanger sooner than we want to!  To read the full interview with Deborah Ann Woll click here.  Be sure to tune in to HBO Sunday nights at 9:00pm to see how the season ends.
Source:  nzherald.co.nz – Deborah Ann Woll: The Lady is a Vamp
Photo Credit: HBO, Inc.