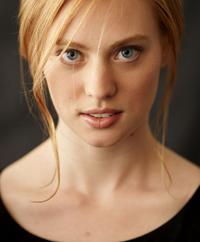 Deborah Ann Woll
GQ Magazine had a conversation in London's Soho Hotel today with True Blood's Deborah Ann Woll.  Given that the interview was taking place on Halloween, they felt it only appropriate to share a few seasonal tricks and treats on the subject of what to dress up as, Ghoul-gling herself and the best outfit she's seen at Comic-Con…
GQ.com: Joe Manganiello told us that working on True Blood was "like being a kid on Halloween every day". Is that accurate?
Deborah Ann Woll: Less candy, but just as much blood probably. I love it. I would go on set every day if they let me. But I'd probably just get in the way.
Do you see many people dressed up as Jessica for Halloween?
I do! People often will send pictures of their Jessica costumes to the Facebook fan page that we run. They do a good job. A lot of people are dying their hair – go redheads! It's interesting too to see that they pick. Some will do the Merlotte's waitress uniform, a lot will do the yellow dress from season two and this year we got one of a girl who wore this great plaid shirt over a little bustier from season four. You'll see…
Do you know you've made it when you're inspiring Halloween costumes?
I guess so. I sort of knew I'd made it when Google stopped autocorrecting my name. It used to change "Woll" into "Wool". Suddenly, one day Google recognised me and I knew everything was good.
What's the best costume you've seen at Comic-Con?
Everything at Comic-Con is strange but endearing at the same time. I have a real love for geek culture so it all seems kind of wonderful to me. One thing I did learn which is fascinating is about the stormtrooper outfits, which seem pretty commonplace. But LucasFilm has not released the rights for that costume so you cannot buy a stormtrooper costume in a store: you have to make it. So if you see a stormtrooper walking around, they moulded that plastic themselves. That gets my vote for the best costume at any Comic-Con because that is above and beyond.
Any good tips for what men should dress up as?
I always recommend no matter what gender you are to go scary. Halloween is about being scary. I think it's fascinating that there's a whole holiday dedicated to things that we fear and that's so interesting about the nature of humanity. You should really embrace that. Dress up as something that scares you.
We briefly considered "zombie Colonel Gaddafi".
That's a little… topical. [laughs]
Too soon?
Yeah.
source: gq-magazine.co.uk