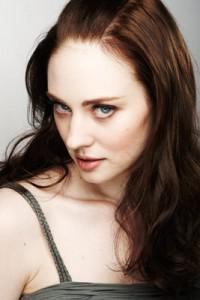 As reported by Variety, True Blood's Deborah Ann Woll, has been offered a lead role in Fox 2000′s period comedy "Rosaline." Based on Rebecca Serle's debut novel "When You Were Mine," pic is a twist on William Shakespeare's classic romance "Romeo and Juliet."
Sources cautioned that deal making has not yet begun as the film is still awaiting a greenlight from the studio.
Michael Sucsy (HBO's "Grey Gardens") is directing from a script by Scott Neustader and Michael H. Weber, who previously wrote "(500) Days of Summer" for Fox Searchlight. Shawn Levy and Billy Rosenberg are producing through the former's 21 Laps banner.
In Shakespeare's "Romeo and Juliet," Rosaline is the woman Romeo first claims to love from afar before he becomes enamored with Juliet. Sucsy's film finds Romeo's jilted ex-girlfriend Rosaline telling her side of the story.
Woll is in talks to star as the title character, while Dave Franco and Hailey Steinfeld would play Romeo and Juliet. Steinfeld is already slated to play Juliet in director Carlo Carlei and scribe Julian Fellowes' more faithful adaptation.
Unlike 20th Century Fox's 1996 pic "Romeo and Juliet," which director Baz Luhrmann set in modern-day Verona Beach while employing Shakespearean language, "Rosaline" will be set in 16th-century Verona and feature modern speech.
Should they accept the offers, both Woll and Franco would graduate from supporting roles to full-fledged leads for the first time in a studio movie.
Best known for playing Jessica Hamby on HBO's "True Blood," for which she'll still have to work out scheduling issues, Woll has been on the verge of a breakout feature role for some time, as she was rumored for a key part in Paul Thomas Anderson's untitled religious drama. Thesp has several noteworthy films on the horizon including Fox Searchlight's romantic comedy "He Loves Me," the indie dramedy "Highland Park" and the Bruce Willis-Forest Whitaker pic "Catch .44."
source: variety.com