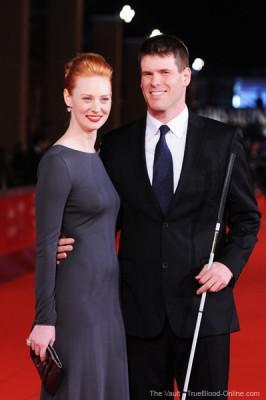 Deborah Ann Woll and her boyfriend EJ Scott chat with Tomm Polos on his podcast TP with TP.
Listen to the podcast on iTunes.
The first half of podcast is all about Deborah who discusses her career and that she was born to be a vampire on True Blood since her skin is already so pale. She is asked about her role of Jessica and her other film projects as well.
In the second half, EJ Scott joins Deborah and they both talk about his winning the Chris Farley award and also EJ's illness of Choroideremia.
EJ discusses his upcoming fundraising efforts and how he plans to do "12 marathons in 12 states in 2012″ to raise awareness and funds for the Choroideremia Research Foundation.
You can read more about EJ's efforts via:
Facebook: https://www.facebook.com/12marathons2012
Twitter: @12marathon2012.
EJ says that even if you can't afford to donate, you can help him by tweeting and posting about it.  Anything you can do to promote EJ's effort and what other's are doing to cure this illness, will be appreciated.