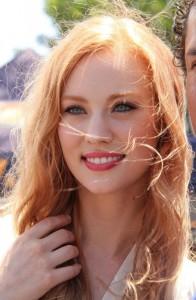 True Blood's Deborah Ann Woll is to play Karen Page, the blind lawyer by day and crime-fighting hero by night and Matt Murdock's (Boardwalk Empire's Charlie Cox) love interest in the 13-episode drama for Netflix.
Page is the longest-running love interest for Daredevil. The character was created by Stan Lee and first appeared in the very first issue of Daredevil in April 1964. She's the secretary at the law firm of Nelson & Murdock who eventually learns of his secret life as a superhero. In the 2003 Ben Affleck feature film, Grey's Anatomy star Ellen Pompeo played the role, which was a minor character. The Netflix series marks the first time the Karen character will be brought to life in a meaningful way.
The drama is based on the Marvel Entertainment comics of the same name. Buffy the Vampire Slayer and Lost alum Drew Goddard was set to serve as showrunner on the series. After signing on to Sony's Spider-Man spinoff Sinister Six, Goddard was replaced by Spartacus (and Buffy) alum Steven S. DeKnight, who will now oversee the show. Goddard will remain on as an exec producer and serve as a consultant on the drama.
Deborah joins Elden Henson, who is set to play Franklin "Foggy" Nelson, Matt Murdock's friend and legal partner; Rosario Dawson in a mysterious role; and Vincent D'Onofrio as "The Kingpin."
Netflix picked up the 13-episode Daredevil — along with Jessica Jones, Iron Fist and Luke Cage, as well as miniseries The Defenders — in a massive pact with Marvel. Daredevil is the first series out of the pack, debuting in 2015. It is produced by Marvel Television and ABC Studios.
The Vault sends a big Congratulations to Deborah for landing such a great part; she sure deserves it!
source: hollywoodreporter.com