Season 4 of True Blood begins this weekend in the UK. To get everyone across the pond excited about tuning in, the promotion has really hit full steam.  Below are three videos with Digital Spy and True Blood's Jessica, Deborah Ann Woll where she shares some fun stuff about her role.
We'll see more bad ass Jessica
Watch the video chat  below with Deborah where she talks about what's going on with Jessica and Bill, the witches have (they're a "terrifying enemy"!) and hear why Deborah ended up biting Chevy Chase…
The following two videos from Sky TV finds Deborah Ann telling us more Jessica's character and how she thinks she was meant to play this role.  She also talks about those vampire teeth.
'I Was Born To Be A Vampire'
There's a shocking revelation at the very beginning of this interview with Deborah Ann Woll – we've all been hoodwinked into thinking when watching True Blood, and Deborah explains how they've tricked us all. The luminous Ms Woll (honestly, she just glows) also explains the precise reason why she has always been destined to play a coffin lodger, the problems she and on-screen boyfriend Hoyt face, and what we can look forward to in the new series. Just click on the icons and enjoy. You can also read our exclusive interview with Joe Manganiello, aka Alcide Herveaux, below. And to round off our True Blood special, we asked Joe and co-star Stephen Moyer to choose their favorite movie monsters for our gallery!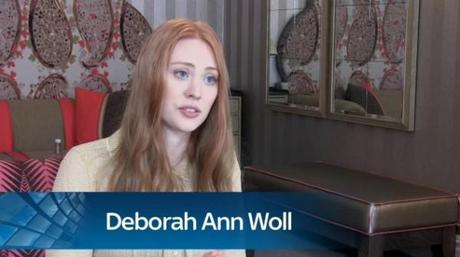 Jessica's Teething Issues
More important to vampires than cloaks, cobweb-filled castles, or a seductive European accent are their fangs, and here Deborah Ann Woll explains how she grew hers for the role. In case you were thinking of asking Jessica over for a dinner party, she also reveals why her character's table manners would rule her out as a guest.