Deborah Ann Woll has teamed up with The Vault for a very special auction that will benefit the Choroideremia Research Foundation.
In close collaboration with Deborah we are auctioning off the following items:
- Unique portrait signed PERSONALIZED for you by Deborah. You will also receive a HANDWRITTEN PERSONAL note from Deborah.
- SFX UK Magazine: double vampire and True Blood issue signed by Deborah Ann Woll, Anna Paquin and Stephen Moyer.
The auction ends on Sunday July 17. Place your bid on eBay: http://r.ebay.com/U3mHUf
The Portrait:
Made by Croatian artist Tamara Grozaj, this drawing is a combination of dry pastel and colored pencils for the details, on Fabriano pastel paper, dimensions: 42 x 30 cm (16.5 x 11.8 in). About Tamara's inspiration: "I am a fan of both True Blood and Deborah inspired me to draw her, Jessica is one of my favorite characters from the series." See more of Tamara's work on Deviantart.
Deborah Ann Woll will sign this beautiful portrait personalized with your name. You will also receive a handwritten note with a personal message for you from Deborah.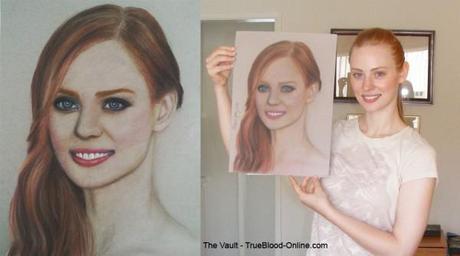 SFX UK Magazine
SFX Collections Special Edition Vampires consists of 2 magazines inside a cardboard outer sleeve. One magazine is a special on Vampire shows and movies the other is a True Blood special with interviews, complete guide to season 1-3, Bon Temps tourist brochure and much more. Each magazine is 100 pages. This special edition was not available outside the UK. For more info about this magazine see our post.
The outer sleeve is signed by Deborah Ann Woll, Anna Paquin and Stephen Moyer. The True Blood magazine is signed on the cover by Anna Paquin and Stephen Moyer and signed inside by Deborah Ann Woll. That is a total of 6 autographs.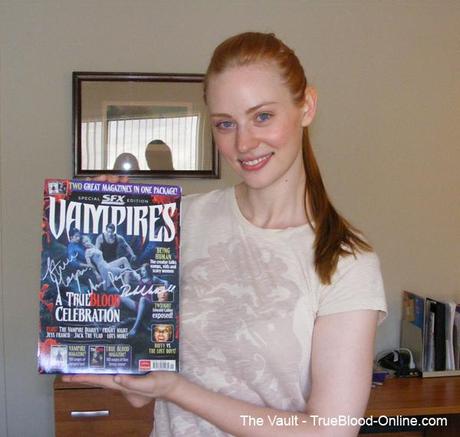 All proceeds minus fees will be donated to the Choroideremia Research Foundation.
E.J. Scott, the partner of True Blood actress Deborah Ann Woll, has Choroideremia. Choroideremia is a rare inherited disorder that causes progressive loss of vision and leads to total blindness. At this time, there is no treatment or cure for this disease. But with enough funding clinical trials can be started within the next couple of years. For more information about the CRF visit curechm.org or our special CRF page.