True Blood's Jessica, Deborah Ann Woll and her boyfriend, E.J. Scott attended the premiere of Netflix's "Marvel's Daredevil" at Regal Cinemas L.A. last night, April 2, 2015 in Los Angeles, California. Deborah Ann looked great with her now, blonde hair and black leather dress. Obviously, EJ Scott can relate to the main character of the series "Charlie Cox" since he is also going blind he can certainly dress up for the part. The couple looked great on the red carpet and we wish the series to be very successful.
Marvel's Daredevil will premiere all of the series episodes on Netflix.com on April 10, 2015. Be sure to watch it!
Below are some photos of Deborah Ann and EJ: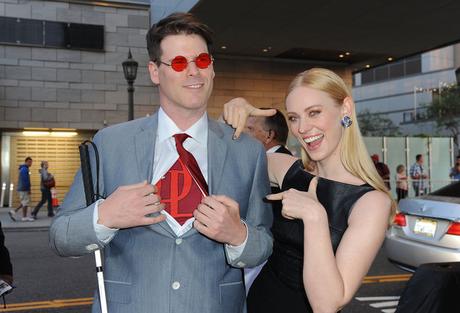 EJ has the disease, Chroroideremia which is causing him to go blind. He is already considered legally blind. Help find a cure for the disease by making a donation directly and safely to the Choroideremia Research Foundation by credit card or Paypal using the PayPal button here below. Donations are tax deductible for US residents.
photo sources: Zimbio.com