seattlepi reports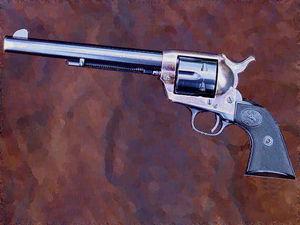 The Arizona House of Representatives has narrowly voted to make the Colt Single Action Army Revolver the official gun of the Grand Canyon State.
If approved and sent to Gov. Jan Brewer, the legislation would make Arizona the second state with an official firearm. Last month, Utah designated the Browning M1911 semiautomatic pistol as its state gun.
The Colt evoked sentiment among some lawmakers in Phoenix.
"Anytime you see a Western movie, the revolver in John Wayne's hand is a Colt single action: This is an historic firearm and it fits well with the story of Arizona," Republican State Sen. Ron Gould told Reuters.
But Democratic State Sen. Albert Hale, a former president of the Navajo Nation, said that "the gun symbolized the extinction, the extermination of those Indians who were there."
I suppose if the reason people like this idea is the historical role the gun played then it's fair to object to it for the same reason. I was thinking about the terrible legacy the role of guns in American history has left with us. Rather than the sins against the Native Americans of 150 years ago, I was thinking more of the sins against our own kids.
What's your opinion? Will this kooky idea fly, even though
the gov has been in a vetoing mood lately
.
What's your opinion? Please leave a comment.